Victoria-based Madame Tiger is taking on the plant-based milk market with a tiger nut-based product it says can match the protein and fat content of cow's milk, while using far more sustainable ingredients and production processes.
According to Madame Tiger, its product is distinguished from other plant-based milks by using extra virgin olive oil as opposed to canola or sunflower oil, and for also being allergen-free. The company also sources its key ingredient directly from a Burkina Faso-based farming collective, driving supply chain transparency and promoting fair trade.
We recently caught up with founder, Laura Hindson.
You have quite an extensive background in F&B, particularly in beverages. What led you to the plant-based milk market?
I love food and beverages, both working in them and consuming them. Working for big organisations like Arnott's and Lion certainly gave me the skills in marketing and a little exposure to sales, but there has always been a part of me that wanted to do more than just stay in one lane. Exposure to both big business and what was a humble start-up (Remedy), gave me the skills and also the grit to try my luck with a food start-up.
I wasn't necessarily attracted to the plant-based milk market, but more intrigued with tiger nuts and how I could bring these to the Australian market in a way that people would love. As I started experimenting with tiger nuts, plant-based milk seemed like the perfect category for us to start in as there were gaps we could fill when it comes to nutrition, ingredient quality, and sustainability.
What unique barriers did you encounter after entering the plant-based milk market, and how have you overcome them?
Having made our first batch of Barista milk at the end of April, it is still pretty new to us. It certainly is a busy category, but one I felt was crying out for something different from the usual oat, almond, and soy selections. We have a big education job to do. Not many people know what tiger nuts are, but we are finding that people are very intrigued to learn about them.
Cafes can be reluctant to take on 'another plant-based milk', but our efforts to set ourselves apart from others in the category are certainly paying off. Our choice not to use canola or sunflower oil, and instead use extra virgin olive oil, is something that has sparked a lot of cafes to take us on. Also, the fact that our tiger nut milk is allergen-free is another big drawcard.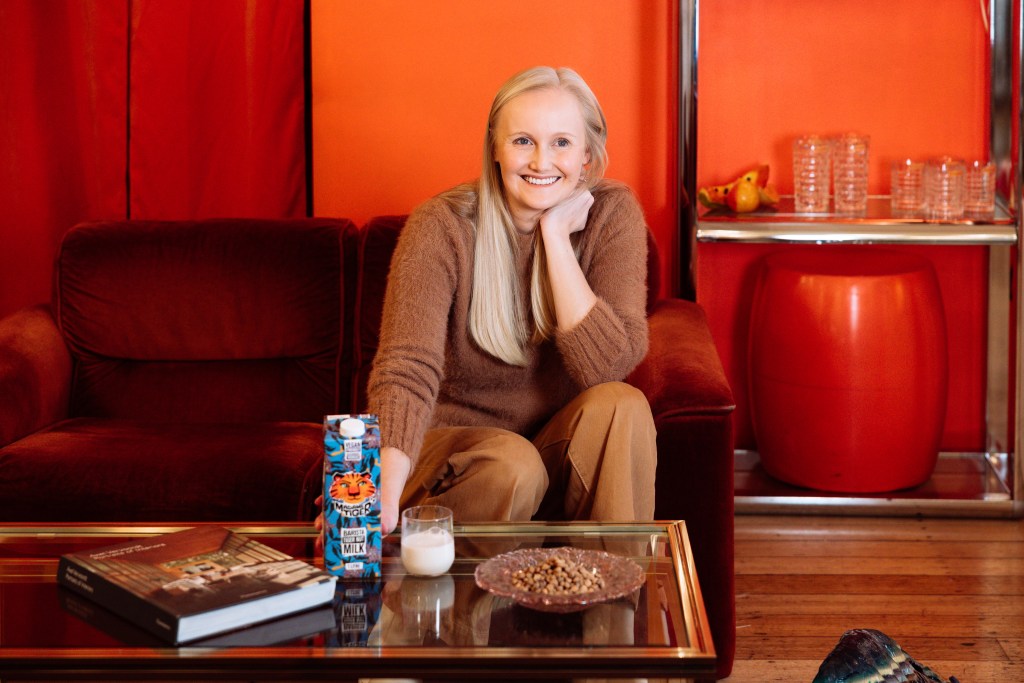 What do you see as the advantages of tiger nut milk compared to other plant-based milks?
Tiger nuts are both highly sustainable and nutritious, packed with fibre, plant-based iron, vitamins, and minerals. The nuts form the base of our milk, but it is our whole milk recipe that sets us apart, both from other plant-based milks and other tiger nut products. We also give our customers 12 percent of the nuts in every glass.
Our Madame Tiger Original Tiger Nut Milk has the protein, fat, vitamins, and minerals to match full cream cow's milk. We are either the only one, or one of very few plant-based milks that don't have to carry the warning statement on the side of the pack 'not suitable as a replacement milk for children under 2.'
Tiger nuts are also allergen-free, making them fine for people to consume if they have gluten, soy, dairy or nut allergies. This quite obviously differentiates us from soy milk, cow's milk, almond milk and oat milk, which often contain gluten.
We also use Australian extra virgin olive oil instead of seed oils, and we avoid ingredients like emulsifiers, gums, and e-numbers. Using olive oil also allows us to have a tiger nut milk that is higher in monounsaturated fat and lower in saturated fat. We go to a lot of effort to make sure that everything we put in our tiger nut milk we are happy for ourselves and our kids to consume. We are our fussiest critics.
Data from your website puts tiger nut milk ahead of oat milk and almond milk in terms of carbon and water footprints. How do you achieve this?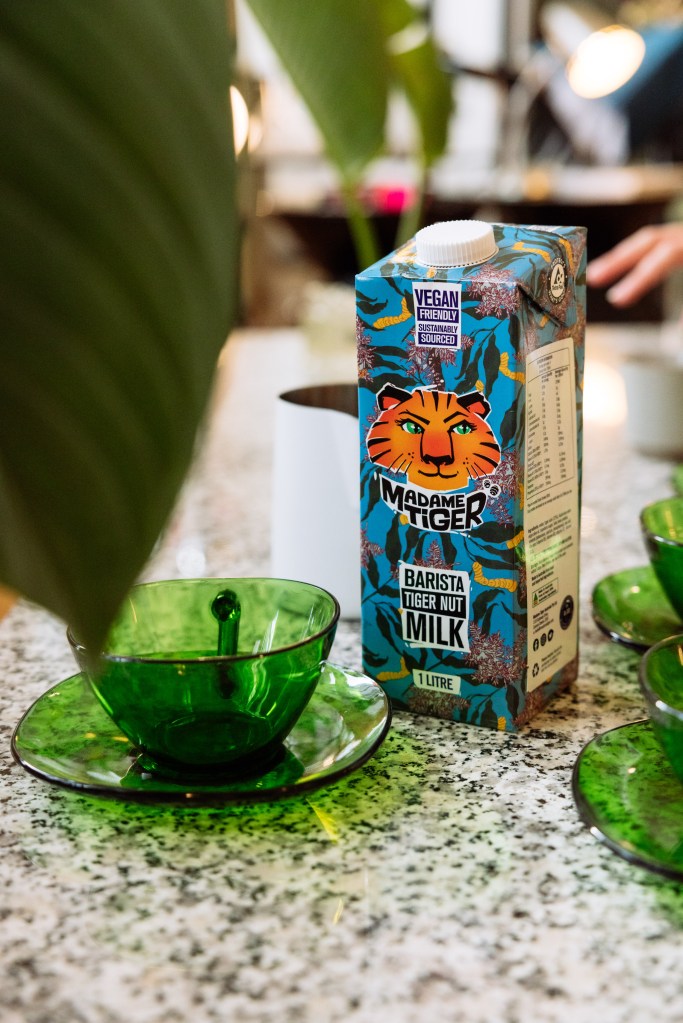 I was determined in building this business to be transparent when it comes to sustainability. One of the major things that sets us apart is our starting ingredient. Our certified organic tiger nuts only need rainwater to grow. The tiger nut crop is easy on the soil and no harmful pesticides are used in the growing process. Tiger nuts on their own have an incredibly low climate footprint and this is something that we have sought out for all the ingredients in our tiger nut milk.
In the development stages we engaged a very useful climate footprint measuring tool, Carbon Cloud. This allowed us to measure every step of our journey to make our tiger nut milk, and give us a climate footprint score. Having this tool early on allowed us to make the right decisions from the beginning.
How did you first connect with the Mousso Faso farming collective in Burkina Faso, and how has the relationship evolved?
Mousso Faso, whose name means 'homeland of the wholehearted woman', is a primarily female farming collective that was established in 2017 in Ouagadougou, Burkina Faso to empower tiger nut farming families. I watched a documentary that was featured at the African Film Festival in Auckland, which is run by my father-in-law. I was therefore able to get in touch with the filmmaker and started talking about all things tiger nuts and fair trade. It turned out that his wife was part of a charity set up to support the Mousso Faso farming collective, and together we shared a fierce passion and determination to see these women and their families succeed.
In the first year, I was helping them write a supply contract and it has grown from strength to strength. When you do what you say you are going to do and pay the price you commit to at the start of the growing season, over time that builds trust. Giving these families the confidence to double their harvest from one year to the next, to be now producing five times the year one harvest, is something we're pretty stoked about. It's great to see people who really deserve it be rewarded for their hard work.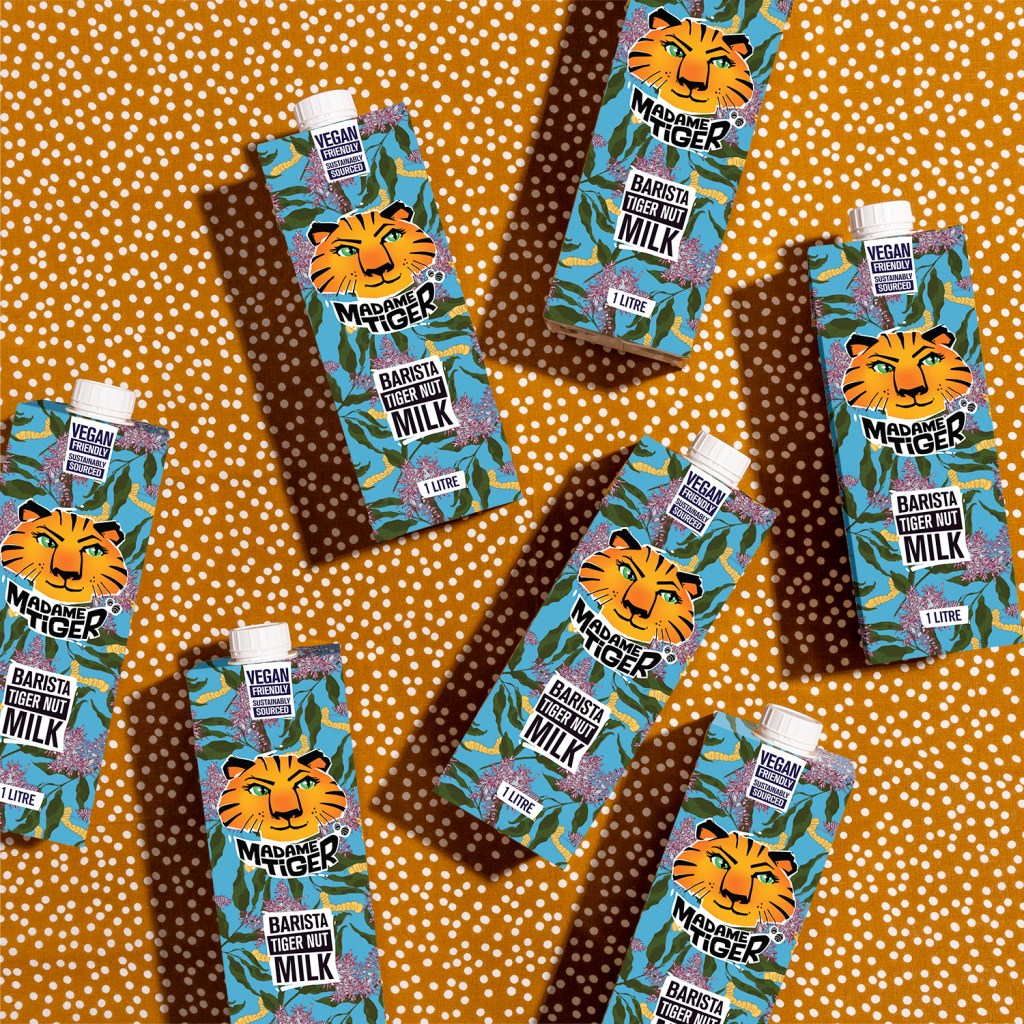 What major stores does Madame Tiger currently retail at in Australia, and do you plan to expand into other markets?
We're a small but growing business who has started our life in our local favourites. Tully's on the Mornington Peninsula was our first official stockist and we continue to hold pride of place in the middle of the plant-based milk section in that store. We are also available in a growing number of health food stores, including some Melbourne favourites like Wild Things and Terra Madre.
Tony & Mark's supermarkets and cafes in South Australia were also one of the early adopters of our Tiger Nut Milk. And we're in some independent grocers scattered across the eastern seaboard and in SA, including the likes of Ritchies, Foodlands, and IGAs. There are also a lot of cafes 'slinging tiger lattes', as we like to say.
We'll continue to grow our stockists in Australia and hope to pick up a few more distributors in the near future. We also have some discussions underway beyond Australia, which is very exciting.
What are your expectations for the future of the plant-based milk market, both in Australia and globally?
Both globally and locally, I expect people will become more and more savvy about what is actually in the plant-based milk they are drinking, and question whether or not they are ok with it. I think there is a perception that plant-based milk is 'healthy' and there is a growing number of dietitians and nutritionists that are starting to reveal that this is not necessarily the case. Just because it is plant-based doesn't mean that it is healthy or has good quality ingredients.
To stay up-to-date on the latest industry headlines, sign up to Future Alternative's enewsletter.