An industry-first whitepaper has outlined the economic opportunity of Australia's cellular agriculture industry, and identified three key barriers to growth.
Cellular Agriculture Australia (CAA) released its first industry whitepaper this week, and it says Australia is well placed to be a global leader in this burgeoning technology.
Used to create animal products from cells rather than entire animals, there are more than 90 cellular agriculture companies around the world, eight of which are in Australia.
CAA's CEO, Dr Sam Perkins, said while it is still a nascent industry, there is significant potential for Australia to excel on the global stage.
"With a world-leading agricultural sector, an outstanding stem cell research industry, and growing advanced manufacturing infrastructure, Australia can become a global leader in cellular agriculture," he said.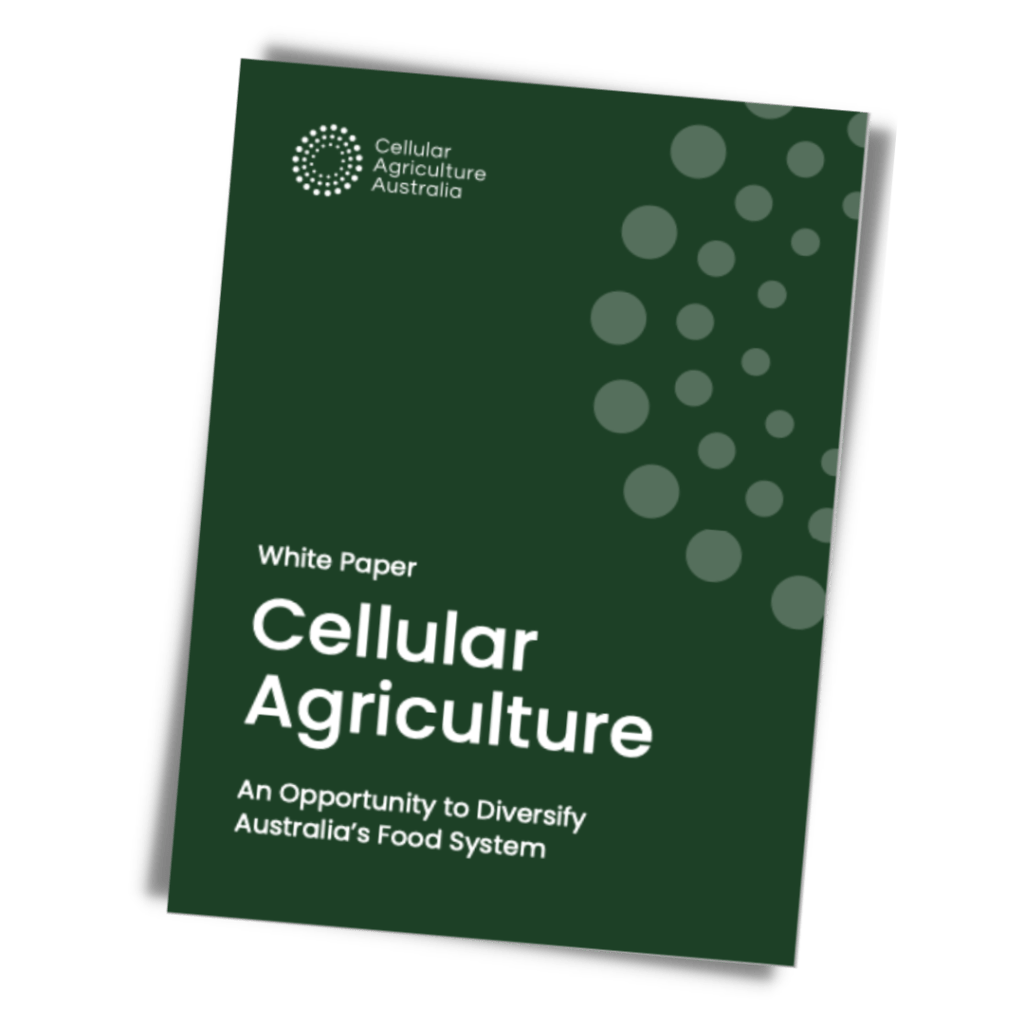 Cell ag's economic potential
The whitepaper, titled Cellular Agriculture: An Opportunity to Diversify Australia's Food System, outlines the size and growth potential of the local cellular agriculture sector.
It shared the below key findings.
CSIRO estimates precision fermentation could generate direct revenue for Australia of $374m to $1.1b, and create up to 2,020 jobs by 2030.
McKinsey predicts global sales of cultivated meat could reach $26b by 2030.
There are currently around 200 skilled roles in cellular agriculture across Australia's private sector.
Modelling by CAA highlights the base case market size for Australian cellular agriculture food products is expected to reach $105-210m by 2035, and could reach as much as $2.3b.
In 2021, $44M flowed into Australia's cellular agriculture companies from investors including CSIRO's Main Sequence Ventures, Blackbird Ventures, and the Clean Energy Finance Corporation. Over USD$1.B was invested in the global cultivated meat industry in 2021.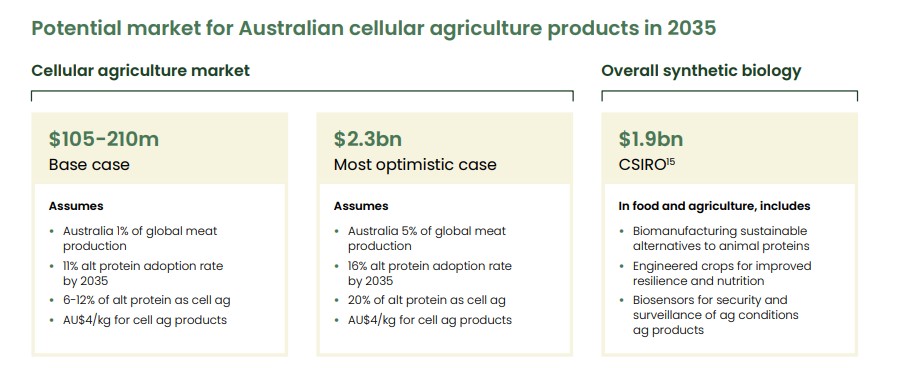 What the Australian industry needs
In order for cellular agriculture to reach its potential in Australia, more investment and infrastructure development is required, the whitepaper says.
It outlines three key barriers to growth.
1. Developing a skilled and future-fit workforce to enable commercialisation and industry growth
"Through investment in the development of broad-based future skills, Australia can grow a pipeline of talent to support the commercialisation of these emerging technologies and cellular agriculture products," the whitepaper reads.
"Investment in these skills would effectively bridge the gap in specialised knowledge required in cellular agriculture as well as supporting other technologies in the medical technology or agricultural industries."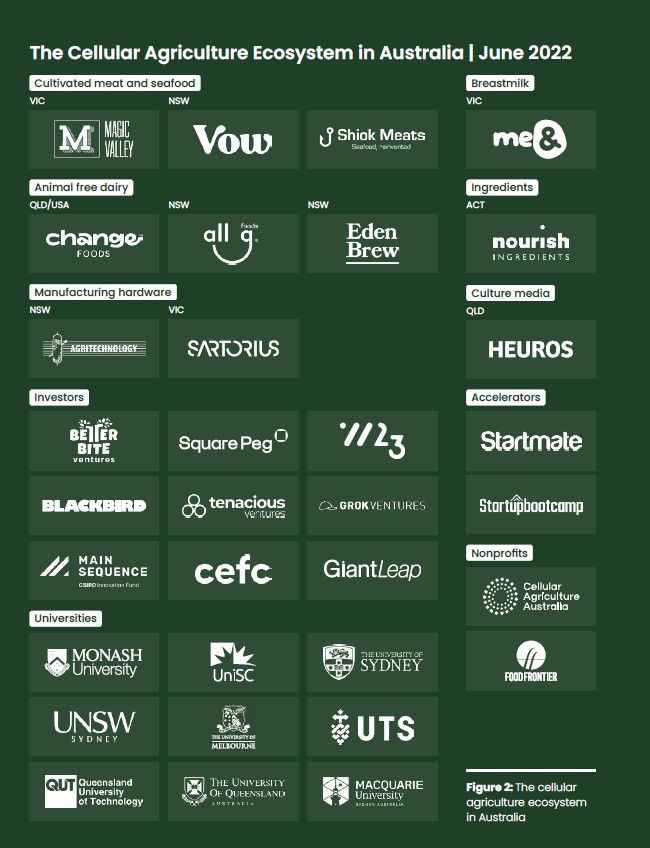 It adds that certain start-ups in the industry will soon require bioprocessing and advanced manufacturing expertise to begin scaling up, and while companies can lean on Australia's world-leading academic programs in this space, there are a limited number of senior researchers available.
There is a need for talent spanning all levels of seniority and experience, the whitepaper reads, calling for "future-oriented, bespoke and cross-disciplinary subjects that could be offered across a number of STEM courses that have a foundation in cellular agriculture."
2. Deepening Australia's cross-disciplinary open access cellular agriculture research
The whitepaper says that while private investment in cellular agriculture globally has rapidly increased in recent years, public research in the sector is disproportionately underfunded.
"As a result, scientific discoveries and breakthroughs are locked up in incumbent private companies, which widens the so-called "valley of death" between basic research and research translation for product commercialisation."
Global research has been conducted in a largely disjointed manner, says CAA, and the field would benefit from dedicated interdisciplinary research centres that can drive the science and technology needed to take the industry forward.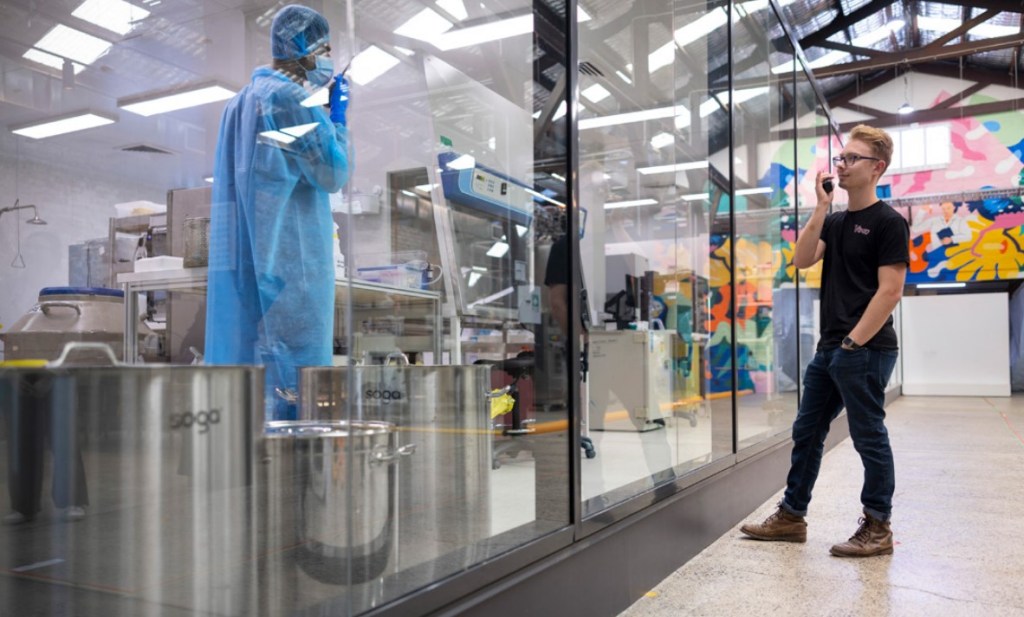 The research centres would need to bring together researchers and industry partners, and include fundamental scientific research, as well as adjacent topics such as food safety, Australian-specific regulation, and consumer studies involving acceptance and willingness to purchase.
3. Establishing at-scale manufacturing capabilities and infrastructure
Based on CAA's research, the infrastructure most needed to develop, prototype and scale the manufacture of cultivated meat and precision fermentation products includes cell line repositories, scaffold databases, scale-up demonstration facilities and at-scale manufacturing plants.
This is where government support is required, the whitepaper reads.
"At this pre-competitive research stage, cellular agriculture facilities are unlikely to attract private sector investment, particularly if they are focused on enabling the broader field as opposed to a particular company. Government support at this early stage, like that provided by the governments of leaders in the space such as The United States and Singapore, would place Australia at the forefront of the cellular agriculture sector as it develops."
To stay up-to-date on the latest industry headlines, sign up to Future Alternative's enewsletter.