The South Australian government has announced the construction of three plant protein manufacturing facilities, widely regarded as a game changing investment in the plant-based sector.
Led by Australian Plant Proteins (APP), which operates Australia's only commercial scale protein extraction facility, the project is also supported by meat processor Thomas Foods International and AGT Foods.
The federal government has committed $113 million to the project, with an additional $65 million from the South Australian government.
The new facilities will quadruple South Australia's production of plant-based protein to 25,000 tonnes per year, while supporting more than 8500 new full time positions by 2034. It's also expected to generate up to $4 billion in exports by 2032.
According to a statement issued by Minister for Finance, Simon Birmingham, and the South Australian Premier, Steven Marshall, South Australia produces over one-quarter of all Australian pulses and this project allows Australia to value-add by up to eight times the value of the product.
"This investment by government along with the private sector will put SA ahead of the pack in the manufacturing of products for the high-growth domestic and booming global plant-based foods market," Birmingham said.
"It's a major step forward in transforming South Australia into a plant-based protein manufacturing and export powerhouse."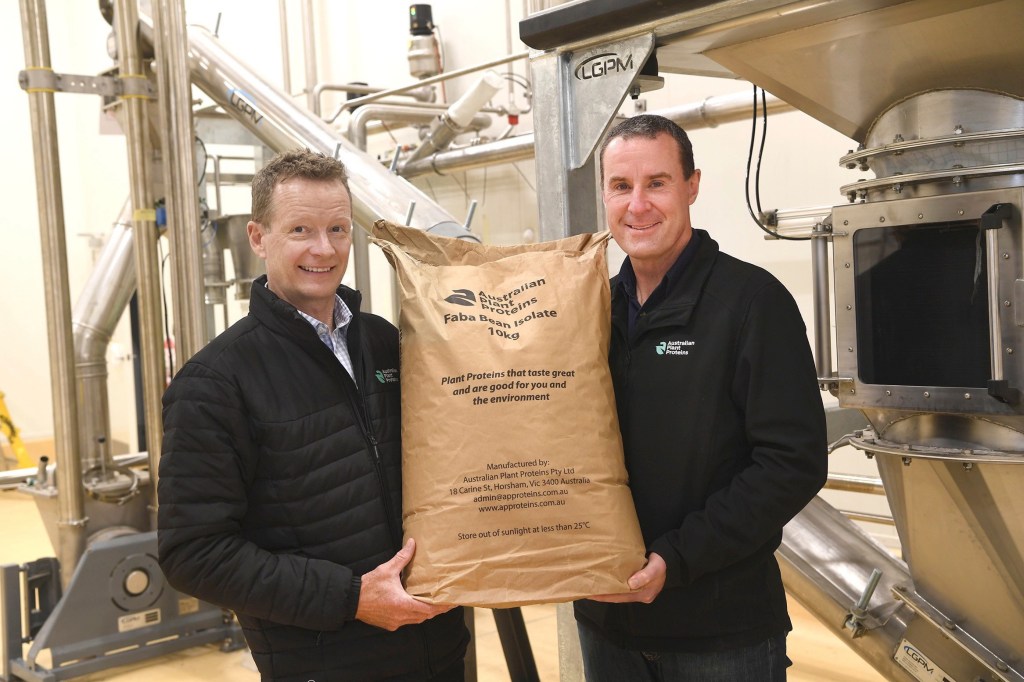 Premier Marshall said the project will create a large scale plant-based food and beverage value chain for South Australia, as well as an entirely new export industry for the state and the country.
"South Australia is already world-renowned for our premium food and produce and we now have a first mover opportunity to capitalise on the emerging global demand for plant protein-based food," he said.
APP will build and operate one of the facilities, which will use its proprietary technology to extract high quality, high protein content isolates from pulses including faba beans, lentils and a range of other common crops. The process produces protein powders suitable for use in a broad range of food, beverage and health products, while any by-products are used in stock feed and compost.
APP co-founder Brendan McKeegan said APP will leverage the blueprint from their existing facility in Horsham, which was designed to be readily scalable, to fast-track development plans.
"Since commencing production in Victoria, we've seen phenomenal growth in demand from domestic and international manufacturers who recognise the high quality and diverse application options of our Australian product," he said.
"It is great to see the federal and South Australian governments recognising the
outstanding potential for Australia to establish a major plant protein industry and take a leading role on the world stage with demand for protein alternatives predicted to continue soaring."
AGT and Thomas Foods will build and operate the two additional plant-based extraction and meat alternative manufacturing facilities.
To stay up-to-date on the latest industry headlines, sign up to Future Alternative's enewsletter.