According to the Good Food Institute, annual investment totals in the Asia Pacific's alternative proteins sector surged from $162 million in 2020 to $312 million last year
The bulk of this 92 percent increase can be attributed to plant-based foods, accounting for $220 million of the total $312 million invested. Amongst the most significant investments made last year was a record-breaking $30 million seed funding round by Singaporean start-up Next Gen Foods, as well as a $110 million Series B raise by Australia's v2food.
Cultivated proteins and fermentation hold considerably smaller pieces of the investment pie, with $62 million and $20 million respectively.
Fermentation was identified as a particular area for improvement, with APAC and other regions outside of North America collectively accounting for less than 10 percent of all fermentation-enabled protein investments. This is despite fermentation attracting more than one-third of all alternative protein investments globally in 2021.
The global outlook
Total investment in alternative proteins grew 60 percent from 2020 to 2021, reaching a record $5 billion.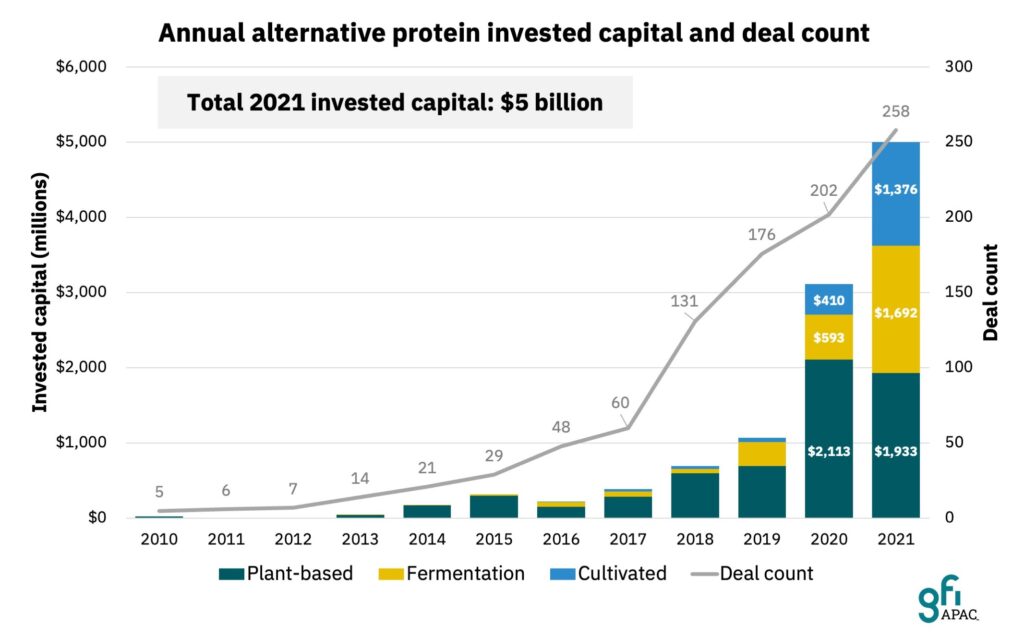 Cultivated meat and fermentation are attracting a significant proportion of these investment dollars globally: plant-based proteins accounted for 39 percent of totally 2021 investments (it's just over 70 percent in APAC), with fermentation close behind at 34 percent and cultivated meat at 28 percent.
In fact, investment in plant-based proteins globally reduced from $2.1 billion in 2020 to $1.9 billion last year, while fermentation and cultivated both enjoyed significant growth (fermentation increased from $600 million in 2020 to $1.7 billion in 2021, and cultivated jumped from $400 million to $1.4 billion.
The rise of APAC
While North America is clearly leading the way in attracting investment dollars, especially in regards to fermentation, its overall share of the global alternative protein investment total is shrinking rapidly. Ten years ago, the region accounted for 100 percent of the investment pool, but its share now sits at two-thirds. Over the same time, APAC has grown from zero percent to six percent.
According to GFI, this represents a significant opportunity for APAC.
"Asia now has the potential to blow the door off its hinges and become a bona fide hotbed of alternative protein unicorns, but only if investors are strategic about their next moves and dramatically ramp up support for plant-based, fermentation and cultivated meat manufacturing infrastructure, which is critical for nurturing sector growth," it said.
To stay up-to-date on the latest industry headlines, sign up to Future Alternative's enewsletter.