Alternative proteins will save three times the emissions for each dollar invested when compared to decarbonising cement, a new report from BCG and Blue Horizon has found.
This is the second report from BCG and Blue Horizon, with the consultancy firm and impact investor releasing Food for Thought in 2021, predicting that alternative proteins will represent between 11 and 22 percent of the global protein market by 2035.
The new report, titled The Untapped Climate Opportunity in Alternative Proteins, surveyed more than 3,700 consumers in seven countries (China, France, Germany, Spain, the United Arab Emirates, the United Kingdom, and the United States), uncovering their reasons for trying alternative proteins and the inhibitors that prevent them from buying more.
What's driving sales?
Three-quarters of respondents said a healthier diet was the leading driver for their alt protein purchases. More than 30 percent of consumers say they'd fully switch their diets to alternative proteins if they believed it would have a major positive impact on climate.
Overall, consumers view alternative proteins positively, with 76 percent of respondents across all markets aware of the category, and approximately nine out of ten saying they like at least some of the alternative protein products they've tried.
Of particular note was the finding that no consumer in any region is willing to pay a premium for alternative proteins that match traditional meat products for taste, texture, and nutrition, suggesting that a price premium requires value add.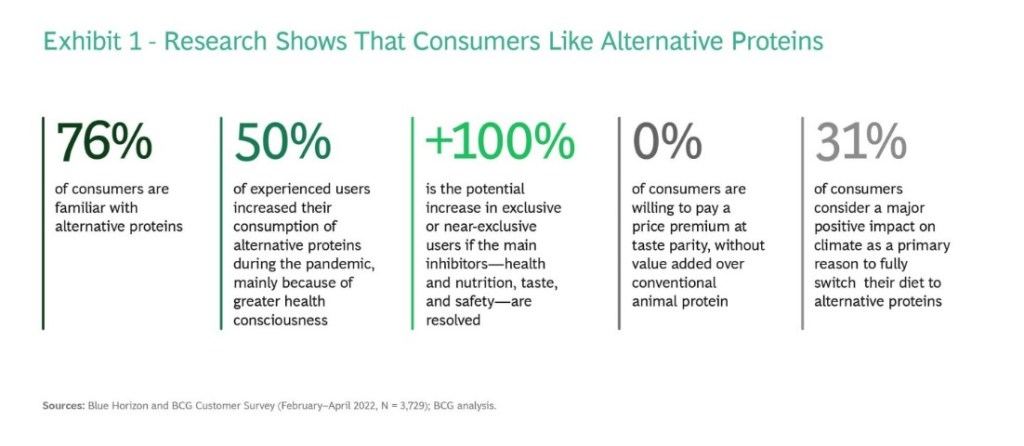 A wise investment
Investment in alternative proteins is increasingly globally, with capital invested rising at an annual rate of 124 percent, from $1 billion in 2019 to $5 billion in 2021. Fermentation and cell-based companies are attracting the most attention, with the latter of particular interest to Middle East investors, who made up 11 percent of worldwide investment in alternative proteins last year. APAC investment grew by 92 percent, driven largely by the plant-based sector.
A key report finding is that when it comes to environmental returns, the plant-based sector is a wise investment. Blue Horizon developed an impact framework whereby every investment is assessed via a theoretical impact value, allowing the company to calculate an IoCE (Impact of Capital Employed).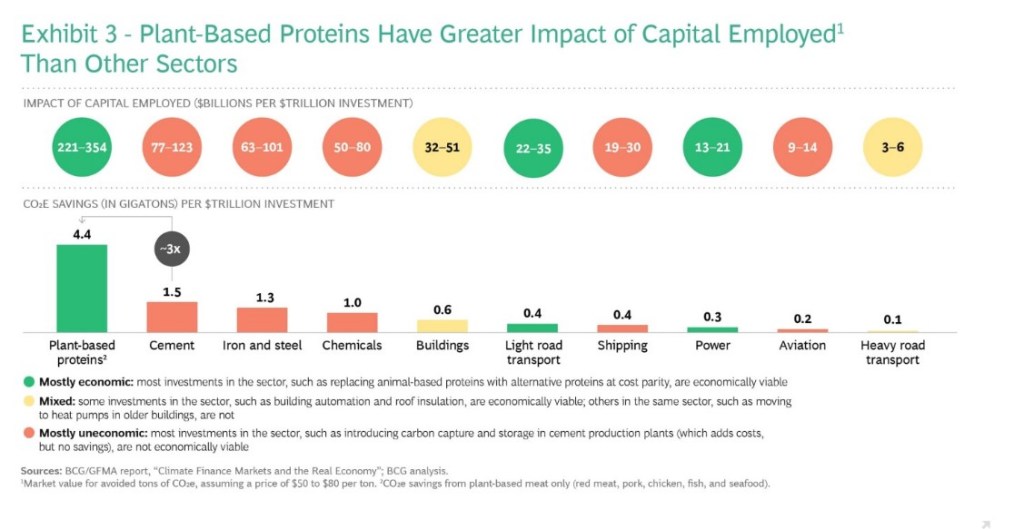 It found that plant-based proteins are more CAPEX-efficient in terms of carbon dioxide and methane emission reductions than in any other industry.
If plant-based proteins enjoy an 11 percent market share in 2035, as predicted in the Food for Thought report, it would save 0.85 gigaton of emissions. This is equivalent to decarbonising 95 percent of the aviation industry.
"Investing in plant-based proteins has the highest emission savings per invested capital – at least twice as effective as investments in cement, iron, steel, chemicals, or transport," a statement from BCG reads.
To stay up-to-date on the latest industry headlines, sign up to Future Alternative's enewsletter.