New data from the Good Food Institute APAC shows that investments in APAC alt protein companies jumped significantly in 2022, the opposite of what we're seeing on the global stage.
GFI APAC's analysis shows that total investment in the region's alternative protein sector increased by 43 percent from 2021 to 2022 (from $392m to $562m). The strongest performer here was the cultivated sector, which enjoyed a 96 percent increase year on year, followed by fermentation (67 percent) and plant-based (30 percent).
"Notably, the 2022 investment totals for both fermentation-derived and cultivated foods were so strong that they not only surpassed the previous year, but also surpassed the previous all-time totals for each sector's history in APAC," GFI APAC said.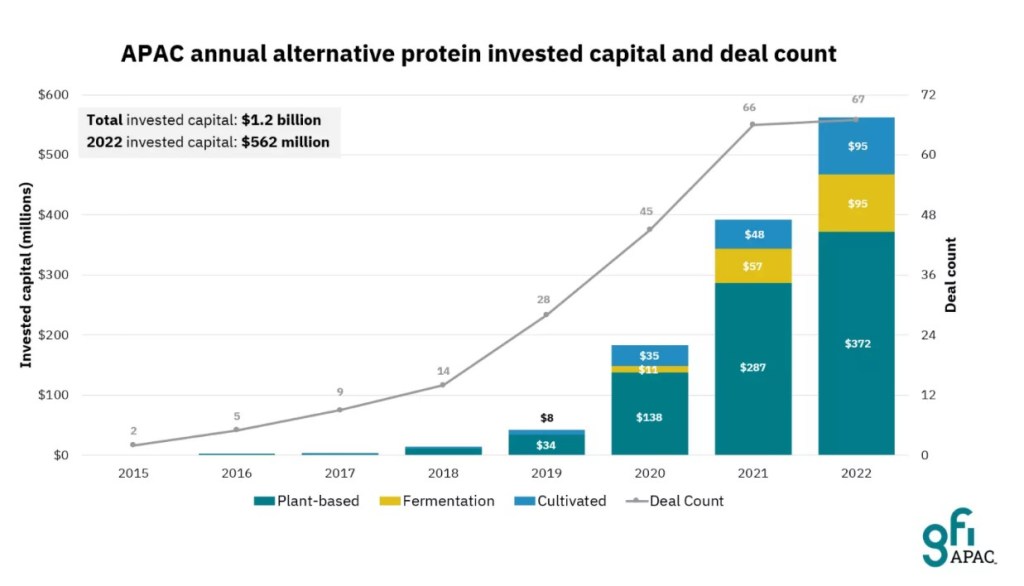 In terms of deal counts, for plant-based they fell from 38 in 2021 to 33 in 2022, whereas fermentation rose from nine to 14 and cultivated from 19 to 20. This takes the total deal count for alt proteins to 67 in 2022, compared to 66 in 2021.
"As a cautionary note, it is worth pointing out that the two largest funding rounds in APAC both happened in Q1 2022, which suggests that they were the spillover result of negotiations during the late-2021 investment exuberance," GFI APAC said. "That said, while lower than in the first quarter, investment figures from the last three quarters of 2022 remained stable, even in the face of a global investment downturn."
There was also a significant increase in average deal size, with the top 10 investment deals in the region increasing by 53 percent year on year.
Bucking the trend
Worldwide alternative protein investment decelerated in 2022, dropping from $5.1b in 2021 to $2.9b. According to GFI APAC, there has been a 35 percent decline in overall global venture funding, with inflationary pressures, transportation disruptions and supply chain shortages all playing a role in VC belt tightening.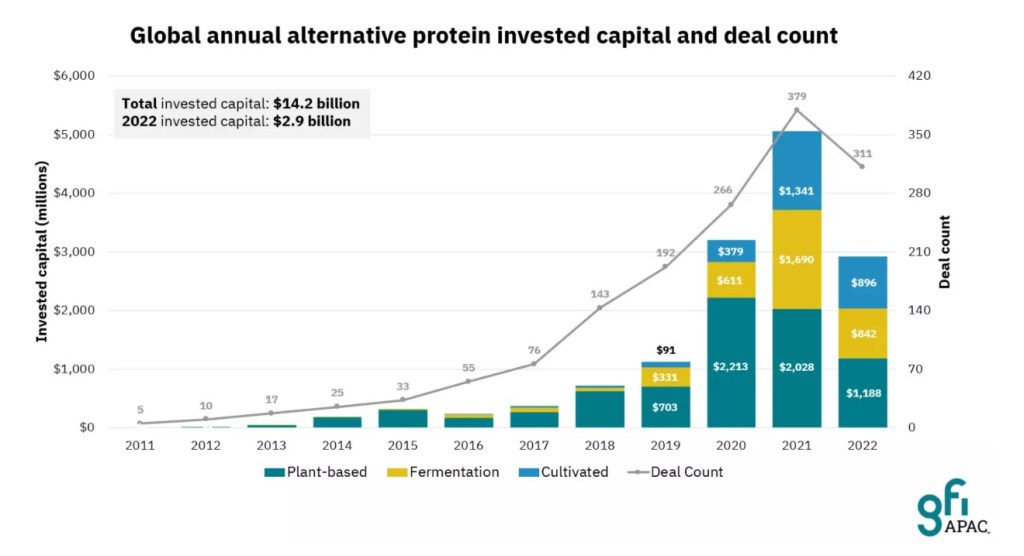 Despite this, a survey of investors active in or entering the alt protein sector shows that 99 percent of respondents feel optimistic about the industry's long term potential, and 87 percent expect to make related investments in 2023.
Where to watch?
In 2022, for the first time in alt protein's history, investments from outside North America represented the majority share on the global total, at 58 percent. Investors are turning their attention to the East, with Europe, APAC and Australasia, and the Middle East and Africa enjoying a growing share of the spotlight.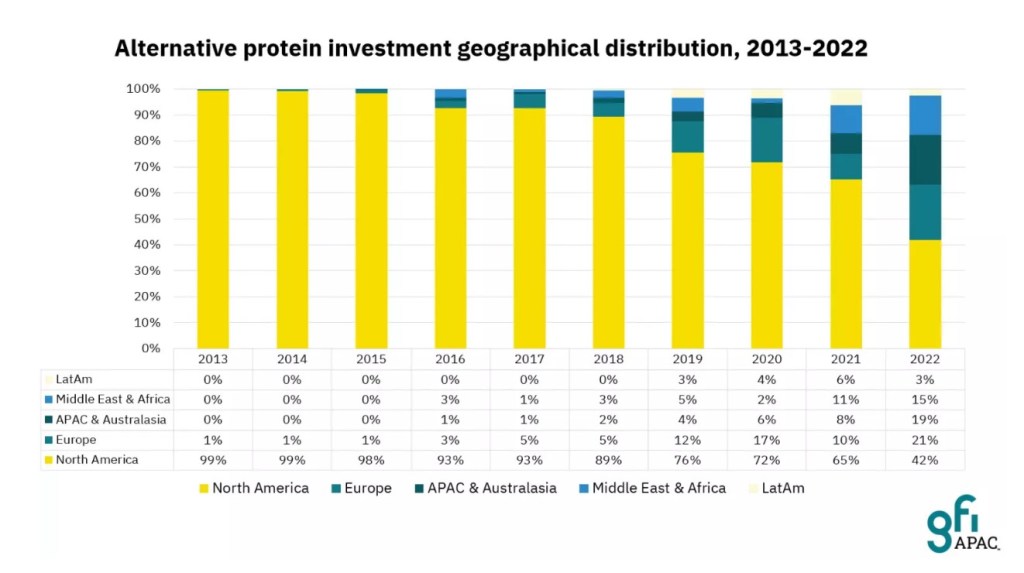 As for APAC, there were two stand-out countries in 2022: Singapore and China. Singapore enjoyed a doubling of total alternative protein investment, from $85m in 2021 to $170m in 2022. Almost of all this ($166m) was directed to the plant-based sector.
In China, investments rose from $24m in 2021 to $152m in 2022, more than a 6x increase year-on-year.
To stay up-to-date on the latest industry headlines, sign up to Future Alternative's enewsletter.