Australia's first 100% plant-based supermarket, Greens, opened its doors this summer in Newtown, which is seen by some as Sydney's plant-based hub.
Greens said it is working to broaden the scope of plant-based items available to shoppers, with a focus on sourcing and developing products and brands not yet available in Australia. The retailer added that when a market gap appears, its in-house team of chefs and custom-built manufacturing facility enable it to create entirely new product lines exclusive to the store.
By keeping its prices competitive, Greens said it is trying to change the conception that making conscious grocery decisions is more expensive.

Future Alternative spoke to Greens CEO, Peter Varvaressos about the background of the store and it's unique business model.

What was the inspiration for opening Australia's first fully plant-based supermarket?
When I had my first child, it became really important to protect my physical and mental health so I could be the dad and partner that I want to be. I also became more conscious of my environmental footprint, because all of a sudden, I felt directly responsible for the earth that my little dude (and now daughter as well) would be growing up in. I wanted to do what I could.
At home, we switched to a plant-based lifestyle – what we were eating and using in the house. I also switched my business, restaurants, from the way I'd been doing it for over 20 years (an omni-channel model), to a plant-based one.
In 2020, we opened our first plant-based restaurant, Vandal, and the immediate response was huge.
Behind the scenes, having access to these new suppliers made me realise that the markups on the products we were buying each week in our family grocery shopping seemed excessive compared to what I could buy them for at the wholesale level. Looking back on it, that's where the first seed was planted about building an exclusively plant-based supermarket.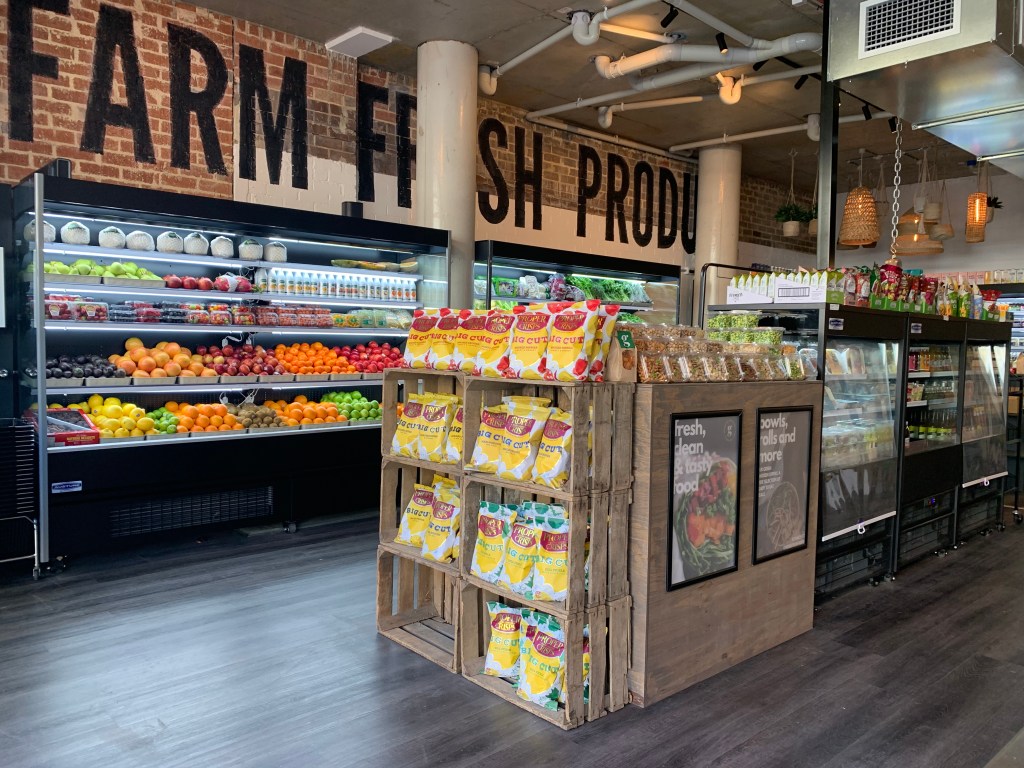 Greens Supermarket in Newtown
Three weeks after opening Vandal, COVID hit. The NSW liquor authority loosened the laws on licenced premises, so to keep this new business afloat, we ended up sitting at the front of the restaurant, selling margaritas to people on their daily walks.
During this time, we would be chatting to our customers as we were all hungry for a bit of human contact and it dawned on me that there was something to the idea I had of making a one-stop-shop for people who already lived or wanted to live a plant-based lifestyle.
In hindsight, it was a really unique opportunity to conduct market research with our target market. I quickly learnt that my family wasn't the only one with this challenge of having to go to multiple different places to do a weekly shop. You get your fruit and vegetables from one place, then toilet paper and cleaning products from another, our flours and nuts from another and so on.
I started thinking that more people would consume and use more plant-based products, if it was more accessible and more importantly, affordable.
One aspect of your supermarket that's getting attention is your competitive prices in terms of plant-based products. How do you keep prices down?
People care about the environment, the last election proves that – they care about the future and what is going to happen to future generations. So our belief is that if given the opportunity, people will make a change, and the biggest hurdle we need to overcome to get them to change is the cost to the consumer in money, effort, and time.
When we started speaking with distributors, we quickly realised that as an independent, we couldn't compete on price with the major retailers, so we had to be creative in how we could structure the business model to bring our costs down. This is where my hospitality experience became crucial to the strategies we would need to implement to be competitive on cost.
We have two main components to bringing our prices down. First is striving to be zero food waste. Food waste is a major cost to food retailers, so by cutting it out, we can pass that saving on to the consumer. We currently repurpose fresh produce that is no longer ideal for the shelf into our grab-n-go selection, such as using it in pies, sandwiches, salads, rice paper rolls, as well as juices and smoothies.

Second, we also rely heavily on solar power, with batteries onsite. Again, by cutting down our energy bill, we can pass this saving on to the consumer.
Do you have any plans for expansion beyond Sydney?
Down the track, absolutely. We have only been open since the end of July, so at the moment we are focusing on Newtown, as well as opening the two new restaurants next door – Kimusabi and Hide. The next step in our expansion is offering delivery, which at first will be available within a 10km radius.


To stay up-to-date on the latest industry headlines, sign up to Future Alternative's enewsletter.