Those interested or active in the alt protein sector have no less than 112 events to mark in the diary, according to Alternative Proteins Global's (APG) updated Event Database.
The Database was curated by APG's founder, Nicholas Dahl, and lists 62 food expos, 28 conferences and 22 other business events relevant to the alternative protein sector and taking place between August and December 2023.
It includes details on event locations, dates, organisers and formats, as well as relevant links and brief overviews.
Events that are both dedicated entirely to and somehow relevant to alt proteins are included, with APG also producing a map as a visual representation of host countries.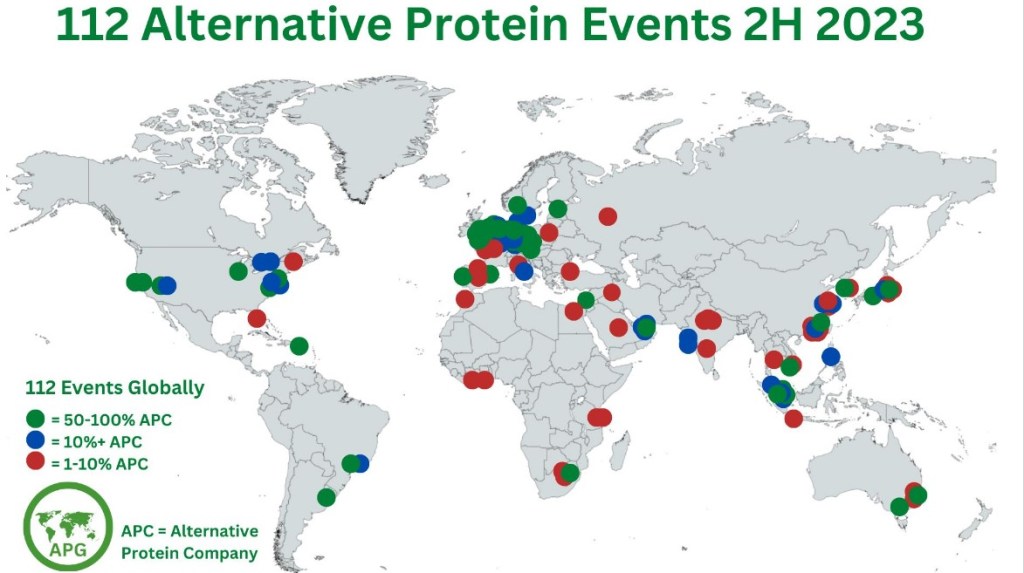 "Green dots (45) are for events where the main or entire focus of the event is on the alternative protein industry. This includes conferences, expos, significant markets/festivals and select webinars dedicated specifically to Alternative Protein Companies (APCs)," said Dahl.
"Blue dots (28) represent events which are roughly 10-50 percent attended/exhibited by APCs. These events generally consist of food expos with a sustainable/healthy foods section as a smaller part of the exhibition with several APCs exhibiting."
The countries with the largest number of alt protein events are:
USA – 12
China – 10
Germany – 9
UK – 8
India – 6
Japan – 6
Singapore – 5
Asia is the continent with the busiest alt protein schedule, hosting a total of 43 events, followed by Europe with 39. Combined, the two regions represent 73 percent of total events worldwide for the remainder of 2023.
There are three events slated for Australia over the next five months. These include:
Fine Food Australia, the leading trade event for Australia's food and foodservice sectors (September).
You can view the database here.
To stay up-to-date on the latest industry headlines, sign up to Future Alternative's enewsletter.