The meat alternatives industry is expected to be the fastest growing food sector globally by 2025, but will enjoy only a small value gain, says data and analytics company, GlobalData.
The data looks at the years 2020 to 2025, and found that meat alternatives is the only sector globally expected to reach double digit value growth, hitting a 12.7 percent Compound Annual Growth Rate.
However, GlobalData says this growth rate should be considered alongside the value gained, which is comparatively small at almost $5 billion, reaching $11.03 billion in 2025. This compares to the $341.5 billion the meat market is set to gain, hitting $1.6 trillion by 2025.
Food and Drink associate analyst at GlobalData, Amira Freyer-Elgendy, said "It's easy to get swept up in the tremendous, off-the-chat growth rates we have been seeing for meat alternatives, essentially running circles around all other categories. The investments and start-ups that are pushing innovative technologies, such as 3D printing, cell cultured products and precision fermentation are also promising. However, these new concepts are still in their infancy and prototypes are still being perfected."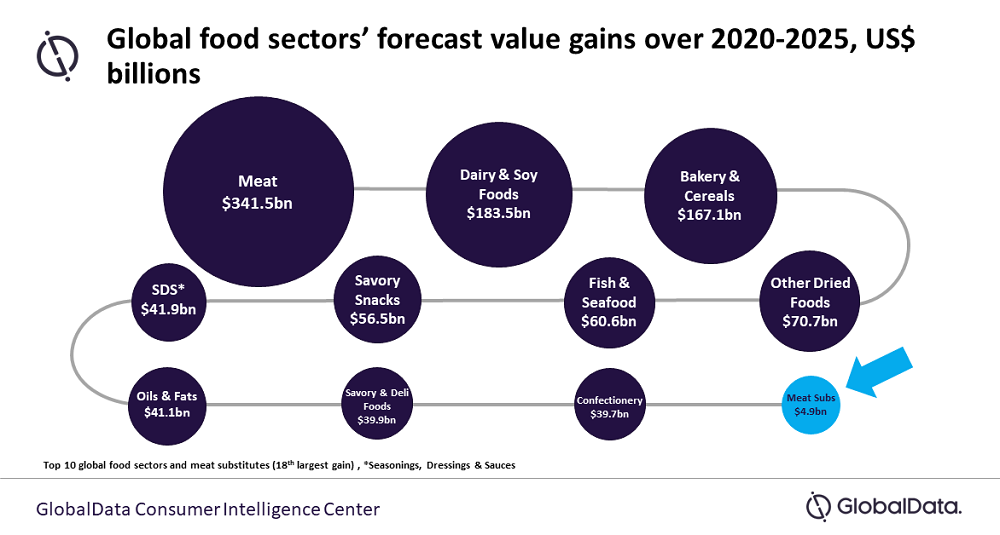 The data indicates that the value of meat alternative gains wont be overtaking that of the traditional meat industry before 2025, with alternatives falling well behind a number of other sectors in the global food industry including Dairy and Soy Foods, Bakery and Cereals, Fish and Seafood and Confectionery.
GlobalData predicts that meat alternatives' small base in value could be due to its niche customer base. While the market is enjoying growing popularity as more people adopt a flexitarian diet, GlobalData's Q2 2021 consumer survey reveals that 35 percent of global consumers don't consume plant-based meat alternatives.
"Meat alternatives are appealing to shoppers beyond the vegan or vegetarian audience, as curiosity, health and ethics are driving consumers to try it. However, a sizeable portion of people still feel wary about meat alternatives. Given the innovation and investment this segment is seeing, I do believe in the next 10 years meat alternatives will become a strong option for the everyday shopper and consumers will gain familiarity and trust in time," said Freyer-Elgendy.
To stay up-to-date on the latest industry headlines, sign up to Future Alternative's enewsletter.