ASX-listed plant-based food company, Forbidden Foods, has released its latest quarterly figures, and for the first time gross monthly revenue has surpassed $1 million.
Despite the third quarter being a traditionally slower one, the company – which owns the FUNCH, Sensory Mill and, most recently, Blue Dinosaur brands – generated revenue of $1.75 million, up 67 percent on the previous corresponding period.
The result comes despite the company not receiving any export orders from its China-based partners, due to Covid interruptions in the region.
Significant credit can be paid to the rise of digital revenue, generating $226,000 for the quarter, up almost 525 percent on the previous corresponding period. E-commerce now accounts for 13 percent of total group revenue. Family snack and baby food brand, FUNCH, achieved its largest digital revenue quarter to date, fulfilling over 1000 online orders in March 2022 alone.
Forbidden Foods co-founder and CEO, Marcus Brown said "Forbidden Foods continues to pursue the development of a valuable portfolio of highly engaging and emerging brands. Our strong brand presence amongst millennials and younger consumers elevates our e-commerce revenue, ensuring the Company transitions away from traditional high working capital and low-margin revenue sources, to develop premium high-margin products which can be efficiently procured, manufactured, and supplied to customers in our respective markets."
As Brown mentions, the company has transitioned towards higher-margin revenue sources, with much stronger attention placed on retail and digital, and less on foodservice. Foodservice, which in Q3 or FY21 represented 57 percent of Forbidden Foods' revenue mix, now accounts for 31 percent, while retail has jumped from 40 to 56 percent, and digital from three to 13 percent.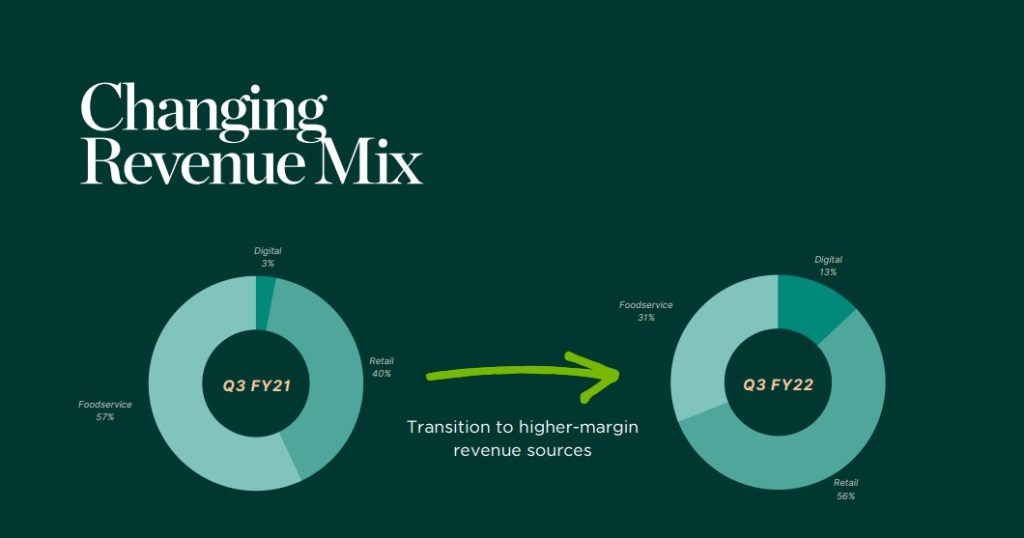 Diverting its attention away from foodservice means Forbidden Foods can focus more on international markets, Brown said.
"With the addition of Blue Dinosaur, explosive growth in digital revenue, and the transition away from the foodservice channel, the Company anticipates continued improvements in underlying gross margin. The transition away from non-branded foodservice revenue will provide the Company with additional resources to continue to invest in our brands in market, with a particular focus on the United States as the Company penetrates the market, which will allow us to focus on increasing the equity of each of our brands," he said.
This includes the Sensory Mill brand, which is about to relaunch with a new look and feel, as well a new ambient plant-based meat range – Forbidden's first foray into meat alternatives.
Forbidden Foods' quarterly results come off the back of another revenue record, with the company's Half Year results, released in February, exceeding $3 million for the first time.
To stay up-to-date on the latest industry headlines, sign up to Future Alternative's enewsletter.