Traditional and emerging protein industries will need to work together if they want to cash in on the extra $13 billion that could be earned by 2030, says the CSIRO.
Australia's national science agency has released a new report outlining how the country can produce a wider range of high quality protein products and capture a $13 billion market opportunity.
The report, Protein: A roadmap for unlocking technology-led growth opportunities for Australia, lists five key science and technology focus areas which it says will be "the building blocks of our success." It predicts that with additional technology-led opportunities, the total Australian protein sector could be worth $89 billion by 2030, considerably higher than the conservative $76 billion estimate.
"Building on our strengths in agriculture and our reputation as a clean, safe, and high-quality food producer, Australia has a huge opportunity to become a global leader in high quality, value-added protein. We estimate this is nearly an additional $13 billion market opportunity that will complement – not compete – with our traditional animal protein industries," said Dr Larry Marshall, chief executive, CSIRO.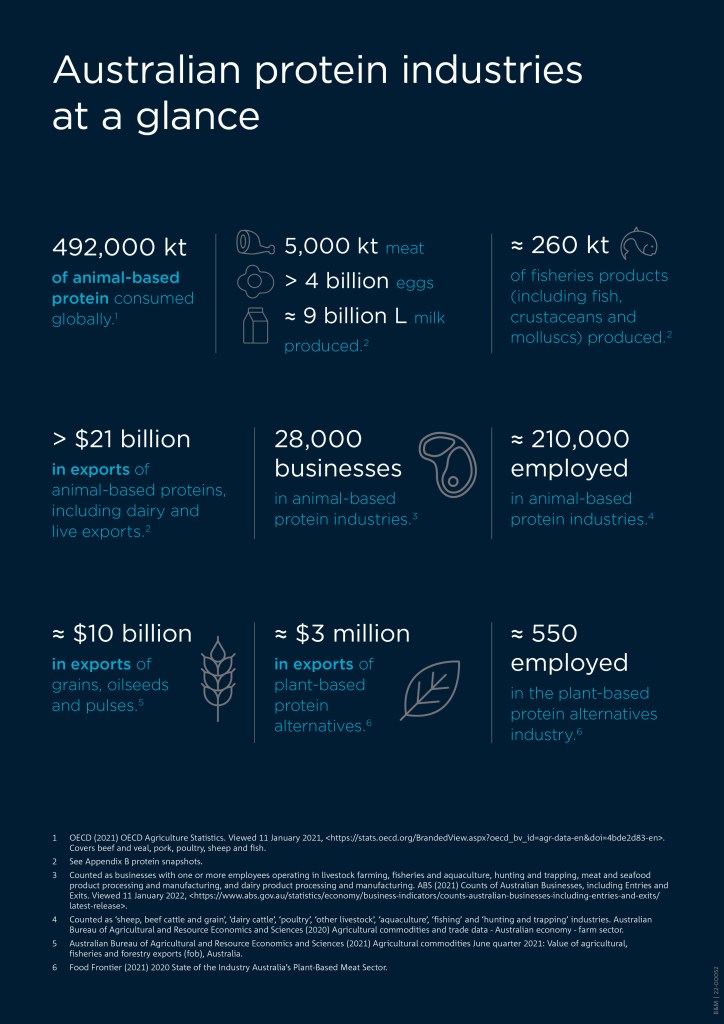 "As protein demand grows and new consumer trends emerge, solutions from science can help create new markets and complement our existing, globally competitive traditional markets. This will help shift Australia's reputation from being the world's food bowl of commodities to becoming a global delicatessen of unique higher value exports," Marshall said.
"CSIRO's Future Protein Mission recognises the scale of this challenge and brings together a wide network of partners with the latest innovative technology to seize this opportunity for a resilient and sustainable food system."
Roadmap to success
The report predicts that plant-based products could be worth $9 billion in 2030, $6 billion more than the $3 billion conservative estimate. There's a $1.45 billion opportunity for precision fermentation ($2.2 billion vs $750 million) and a $32 million opportunity for insect protein ($44 million vs $12 million).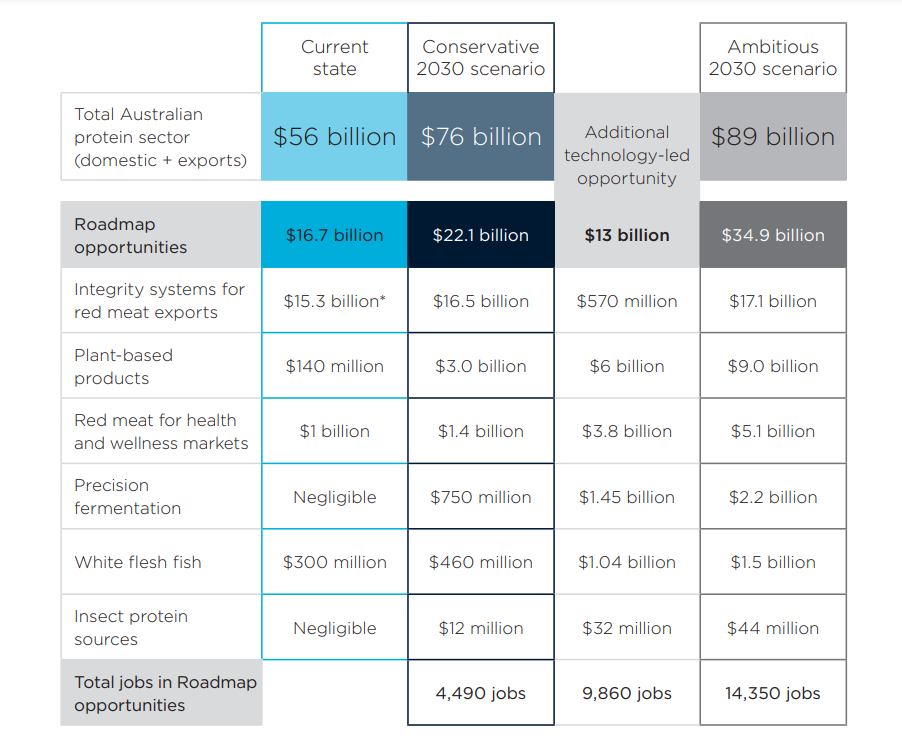 But the alternative protein sector needs to work together with traditional protein industries in order for these growth figures to be realised, says the CSIRO.
The report lists five focus areas that will help the Australian protein industry realise its potential:
Strengthening product integrity and market access – Continuing to invest in the competitiveness of Australian protein products and ingredients.
Optimising quality and cost competitiveness – Continuing to invest in the essential R&D and infrastructure that underpin the quality and cost competitiveness of Australian protein products and ingredients. This will ensure Australian manufacturers have the inputs needed to produce higher value products and that Australian protein is preferred by customers and consumers.
Maximising resources and circularity – Transforming what is currently considered low value or waste into high value products and ingredients and incorporating circularity principles into the supply chain.
Enabling the scale-up of high growth sectors – Identifying sectors that are currently relatively small in Australia but have high growth potential and supporting their scale-up.
Developing novel production systems – Identifying new methods for producing protein through targeted investments in R&D and infrastructure. Examples of novel production opportunities include precision fermentation and cultivated meats.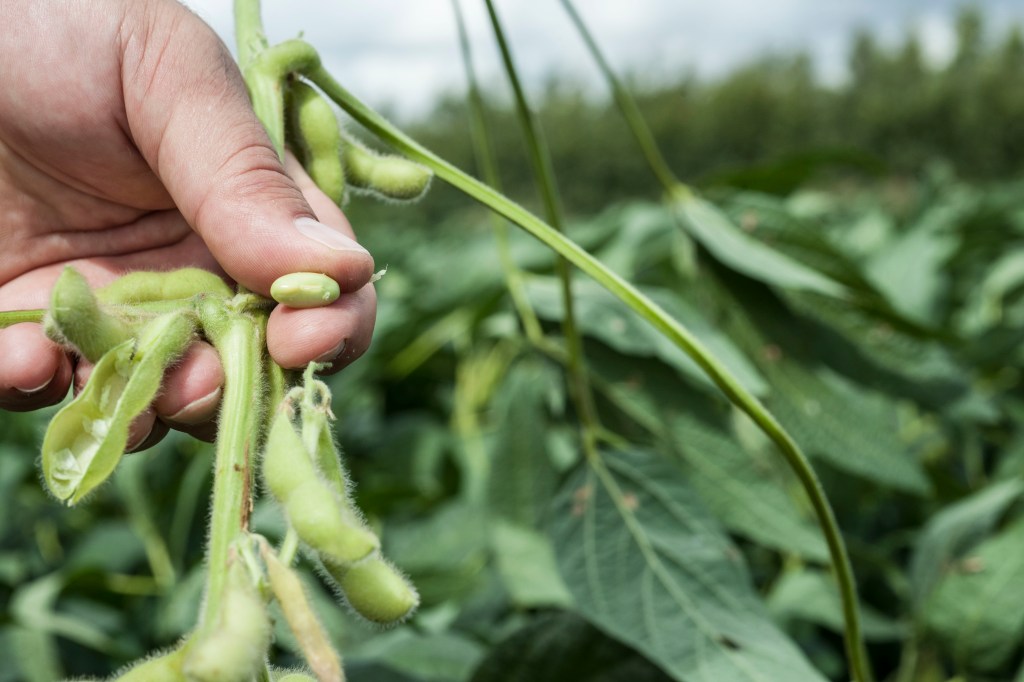 Examples of innovation
The report lists the following as potential growth opportunities:
Turning lesser cuts of red meat into value-added protein powders and nutraceuticals
Developing higher-protein and better tasting legume crops
Creating a new sustainable industry in Australian white-flesh fish
Exploring non-traditional forms of protein like cultivated meat and edible insects.
Investing in the traditional protein sector is critical, too. The report says Australia can leverage – and protect – its reputation as a producer of world-class red meat be harnessing digital traceability and integrity systems.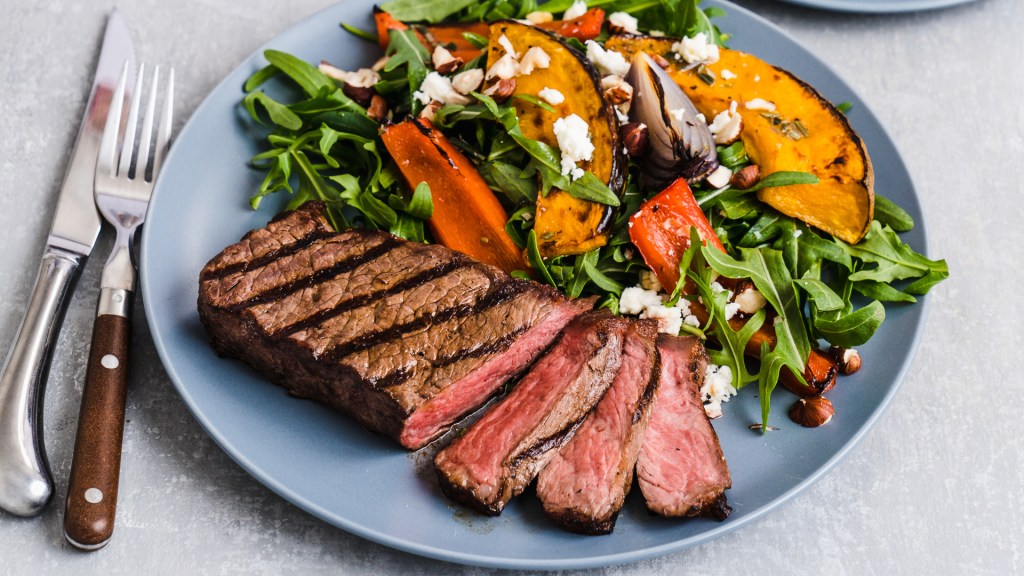 "Australia is already a significant global producer of premium protein products – like our beloved steaks, lamb, prawns, and barramundi – and there are opportunities to enhance our leadership. Our beef is so highly sought after in export markets that food fraud could impact our growth. This Roadmap outlines the opportunity to build on the premium status of our beef with technology to verify the provenance of a product at any point along the supply chain and uncover impersonators," Marshall said.
"But the protein market opportunity cannot be met by animal proteins alone. Australia already has strong cropping industries that our science can leverage to grow our plant-based protein output, and if we invest in our manufacturing capability, we can supercharge that growth. We export more than 70 percent of the bulk protein commodities we produce – like grains, legumes, and meat – and ironically buy them back as finished products. We could capture significantly more value if we invest in our processing and manufacturing facilities to convert these into higher value products for international markets, just as we've demonstrated already creating companies like v2food to bring plant-based protein products onto the mainstream market."
To stay up-to-date on the latest industry headlines, sign up to Future Alternative's enewsletter.