A plant-based cheese said to rival dairy cheeses in taste and nutrition has won the Falling Walls Lab Aotearoa New Zealand competition.

Dr Debashree Roy from the Riddet Institute at Massey University was selected as the winner for her plant-based cheese technology Chedda-V, which she claims has nutritional and sensory qualities on par with traditional dairy cheeses. Selected from 22 participants, she will represent New Zealand at the Falling Walls Lab Global Finale in Berlin this November.

"Our novel patent pending technology is sustainable and easily scalable," Dr Roy said. Chedda-V is said to be able to produce a variety of cheeses using a range of plant-based proteins such as pea or soy.

According to Massey Ventures – a subsidiary of Massey University – sensory evaluations have yielded promising results, with consumers expressing enthusiasm for Chedda-V.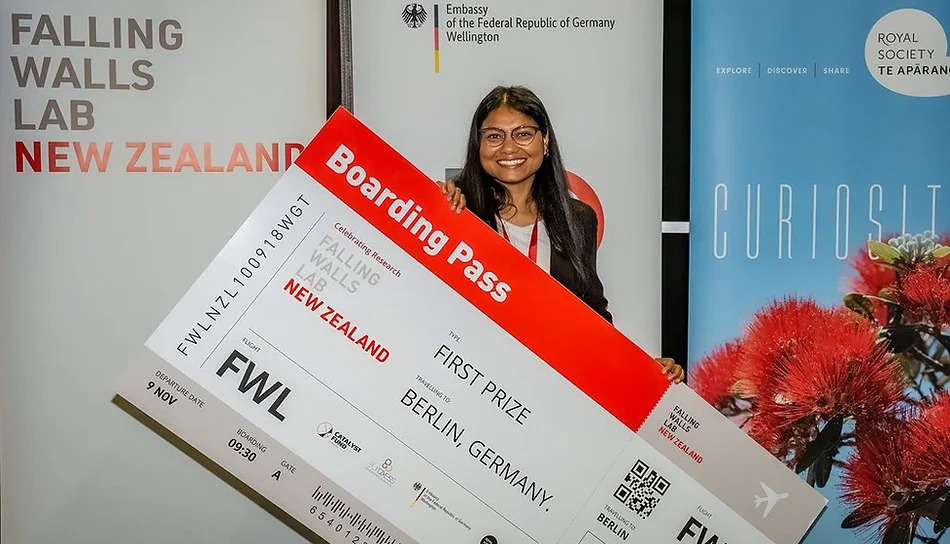 Dr Debashree Roy. Image via Massey Ventures.

Dr. Roy said the goals of the project were to make a product that was not only nutritious and functional, but also delicious, as well as to reduce the price of plant-based cheeses.

Professor Phil Lester of the School of Biological Sciences at Victoria University of Wellington, who chaired the jury, described the project as a "big breakthrough".

The Falling Walls Lab competition is an opportunity for the next generation of students and early-career professionals to pitch their innovation idea. The award is held annually by The Falling Walls Foundation gGmbH, a non-profit based in Berlin, Germany, with the goal to communicate outstanding science and research to society.

Massey Ventures said it is currently working alongside the Riddet Institute to commercialise the Chedda-V technology.
To stay up-to-date on the latest industry headlines, sign up to Future Alternative's enewsletter.