A new report by Food Frontier examines the export potential for Australia's alternative protein products in five Asian markets, and according to the industry think tank, China represents the biggest opportunity.
The report, Alternative Proteins and Asia, saw Food Frontier partner with research firm, Mintel, and New Zealand's food and fibre sector think tank, Te Puna Whakaarouni, to identify the strongest export opportunities in Asia.
Researchers assessed 11 countries, ranking them for their market suitability based on market size and innovation, market entry and operations and consumer intelligence.
The countries with the greatest market potential were, in order of opportunity: China, Singapore, South Korea, Thailand and Japan.
The report surveyed 1000 respondents from each market, delivering a total sample size of 5000.

Key findings:
FLEXITARIANS are driving interest in alternative proteins in all five markets, with these consumers predominantly motivated by health concerns, except in Singapore where environmental concerns are the top driver. Nineteen percent of people across the five regions are flexitarians, with the strongest representation in Thailand (38 percent) and the weakest in Japan (three percent).
FOODSERVICE, via quick service restaurants, is the best market entry point for Australian and New Zealand plant-based meat brands, while ready meals are a growing opportunity given the rise in single person households.
Like in other markets, TASTE, PRICE AND THE PERCEPTION of being too processed are the biggest barriers to acceptance of plant-based meat in the five markets.
There is increasing INVESTMENT AND CONSUMER AWARENESS of cultivated meat across the five markets, with China and Thailand the most receptive markets.
CULTIVATED MEATAND PRECISION AND BIOMASS FERMENTATION products are not well-recognised outside of Singapore. However, consumers in all markets, except Japan, are generally open to trying foods produced using these technologies.
The 5 markets in focus
China
China presents the largest meat substitute market size of USD2.13 billion, with 20 percent compound annual growth rate predicted to 2027.
Barriers exist due to cultural association of meat consumption with wealth and health, as well as the existing prevalence of traditional plant proteins that are already in diets, such as tofu.
New opportunities exist in the growing 'snacking' category, with adaptation to local cuisines such as mooncake and traditional Chinese dishes.
Female, high-income households, and parents are more likely to consume plant-based meat.
Partnership opportunities exist with Chinese businesses, whether for importation and distribution or contract manufacturing for branded, co-branded or white label products, to access markets and reduce costs.
Cultivated meat featured in the government's five year agricultural plan in January 2022, while Chinese consumers indicate a high level of willingness to
consume both cultivated meat (74 percent) and precision and biomass fermentation (69 percent).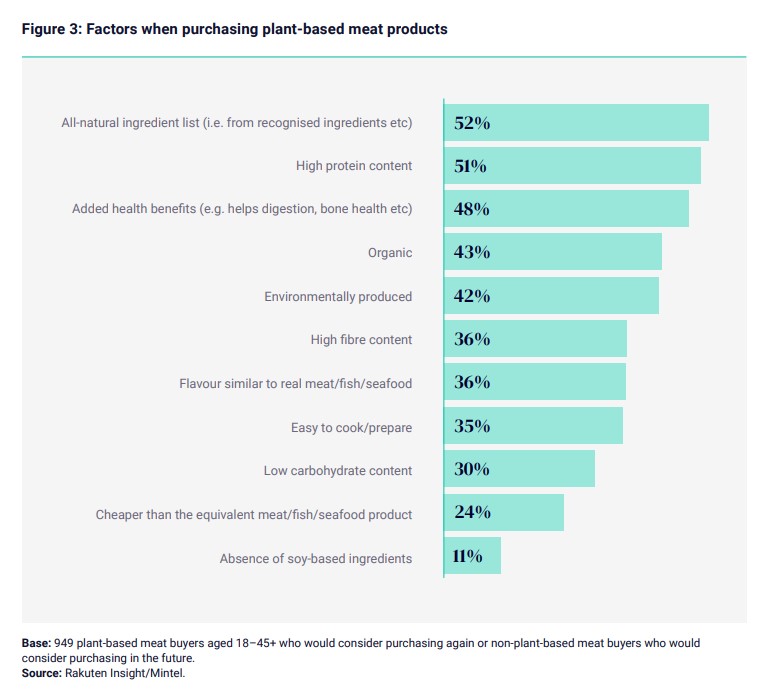 Singapore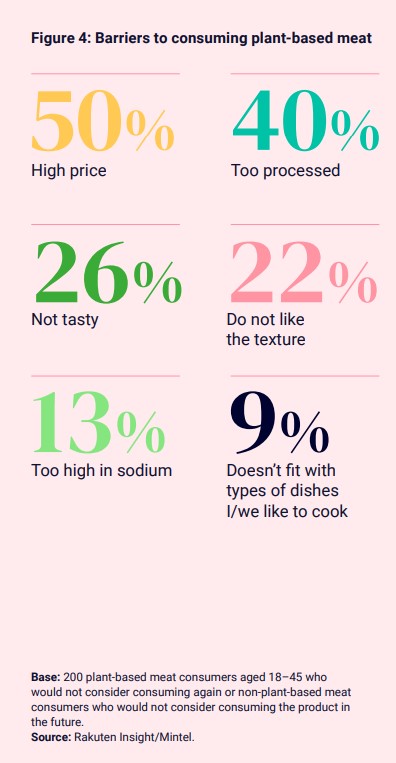 Considered the centre of innovation in Asia for alternative proteins with a business-friendly environment backed by favourable government policy
and regulations to attract investment and innovation.
In relative terms, Singapore has high meat substitute revenue per capita (USD2.34 in 2022).
Singaporeans are multicultural, adventurous consumers who dine out frequently and expect high-quality, good value food at hawker centres and grocery stores, enjoying both western and Asian cuisines.
Consumers are motivated by environmental concerns due to Singapore's food insecurity, and consumers aged 25–34, high-income households, and parents are most likely to consume plant-based meat.
Singapore has the highest awareness of cultivated meat and precision and biomass fermentation and research revealed that 39 percent of consumers will or are likely to consume cultivated meat.
South Korea
Has high projected meat substitute revenue growth at 20 percent CAGR to 2027 with high premiumisation.
Demand is being driven by the rise in single households seeking the convenience of ready meals and meal kits, and the availability of plant-based meat in local formats.
Health, taste and environmental concerns are driving the trials of products, although taste is also a key barrier.
Opportunities for imports of Western-style formats exist because of the high perception of Australian and New Zealand brands for environmental friendliness and naturalness.
There is a low price premium due to the high price of meat.
Government leadership is increasing for policy and investment in new technologies like cultivated meat.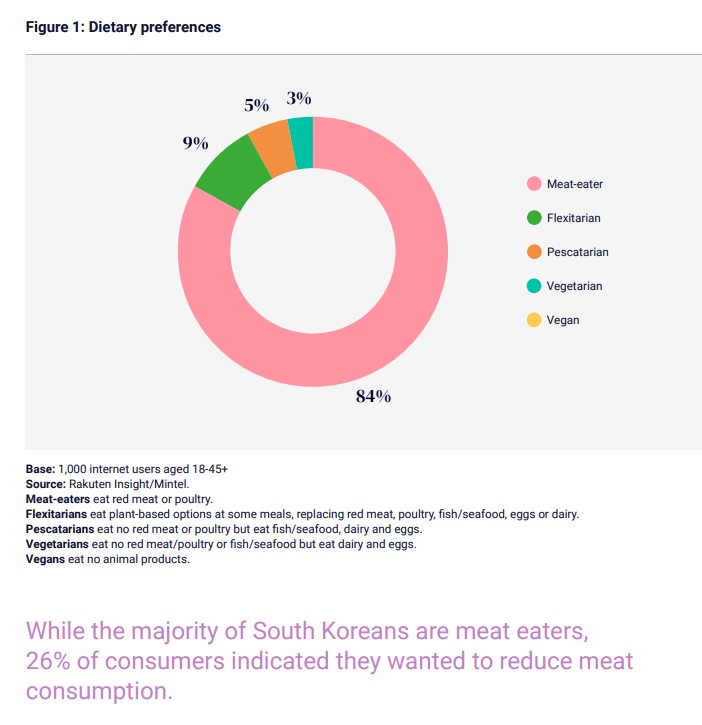 Japan
Has a large meat substitutes market; however, growth is predicted to be lower than other markets at nine percent CAGR to 2027.
Japanese consumers have strong meat-eating preferences with a relatively low desire to reduce meat intake.
An increased desire for convenience presents opportunities to export Western-style products through foodservice and convenience retail channels.
Consumers aged 18–24, high monthly-income households, and ethical, premium, health-conscious and shoppers looking for unique products are more likely to buy plant-based meat.
Although there is no regulatory framework in place yet, research and government organisations have recently signalled the intention to progress safety, labelling and a path for the commercialisation of cultivated meat.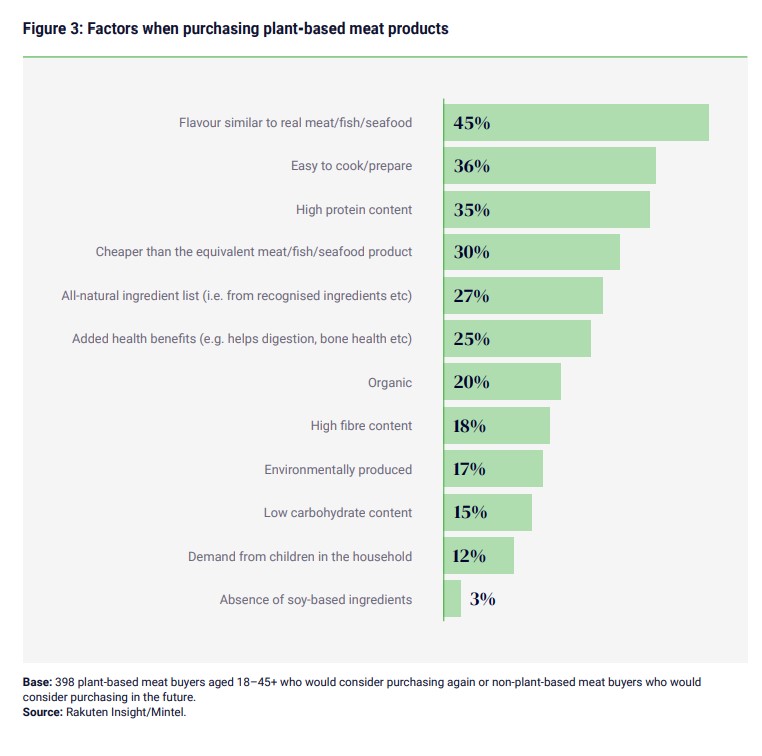 Thailand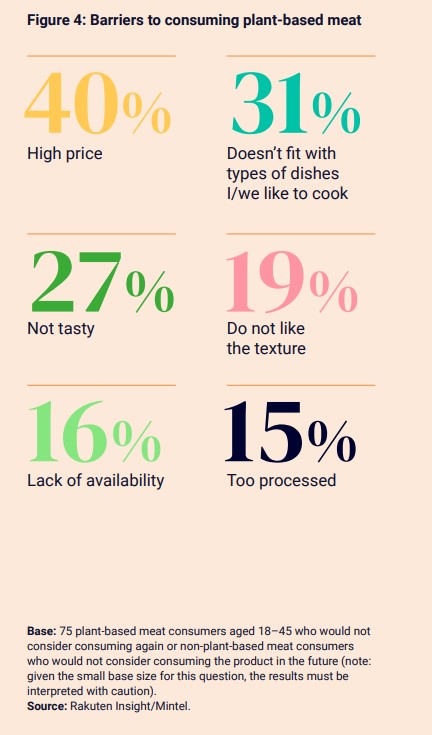 Presents a moderate meat substitutes market with strong growth of 14 percent CAGR expected to 2027.
Thailand provides a good entry point to Southeast Asia due to its business-friendly environment and prevalent co-manufacturing infrastructure.
The Thai government has a 'Future Food' roadmap to support innovations including alternative proteins and 3D food printing, and the private sector has invested substantially in plant-based and cultivated meat.
High rates of flexitarian diets are driven by historical and cultural influences, an appetite for novelty, and a willingness to try innovative products.
There is evidence of rapid new product development in the local plant-based industry focusing on nutritional benefits, clean and natural positioning, and health.
Consumers aged 18–24, those with high household incomes, and parents are more likely to consume plant-based meat products.
To stay up-to-date on the latest industry headlines, sign up to Future Alternative's enewsletter.