Green Rebel co-founder Max Mandias has gone from cooking his mum's chicken soup for fellow students, to supplying plant-based beef to Indonesia's largest steakhouse chain.
 
Future Alternative recently spoke to Mandias, the food-tech start-up's Chief Innovation Officer, about his personal story, and that of the business he founded with his life- and business-partner, Helga Angelina Tjahjadi.
The early days
A love for cooking shines through as Mandias talks about his childhood experiences watching his grandfather cook "very quick… and very tasty" traditional Chinese dishes. The same enthusiasm is there when he discusses being on exchange in Belgium in 2010. Cooking his mother's chicken soup recipe for fellow students, some were compelled to start "knocking on his door and saying, 'I'll give you ten Euros… please cook for me!'"
 
Citing it as an "important turning point" in which he realised that he could "do this for the rest of (his) life", Mandias said he was also "super inspired" by his experience volunteering at Amsterdam raw food restaurant, Alchemist Garden. Mandias and Tjahjadi, who met in the Dutch capital in 2009, were determined to do "similar things" after becoming vegans themselves.
 
Arriving back home to Jakarta in June of 2012, Mandias and Tjahjadi founded Burgreens restaurant, their first business venture. Initially focused on plant-based burgers, the concept not only quickly evolved to include traditional Asian dishes with a plant-based twist, but became something bigger altogether.
 
Mandias, who decided to combine his cooking expertise with training in nutrition to become a "better chef" for Burgreens, describes the chain as a "pioneer of the healthy food movement" in Indonesia and "more than just a restaurant".
Aside from delivering "tasty and affordable" plant-based meals at scale through a quick service restaurant (QSR) format, Mandias said the Burgreens brand was also focused on health and sustainability education, working with schools, businesses and other organisations.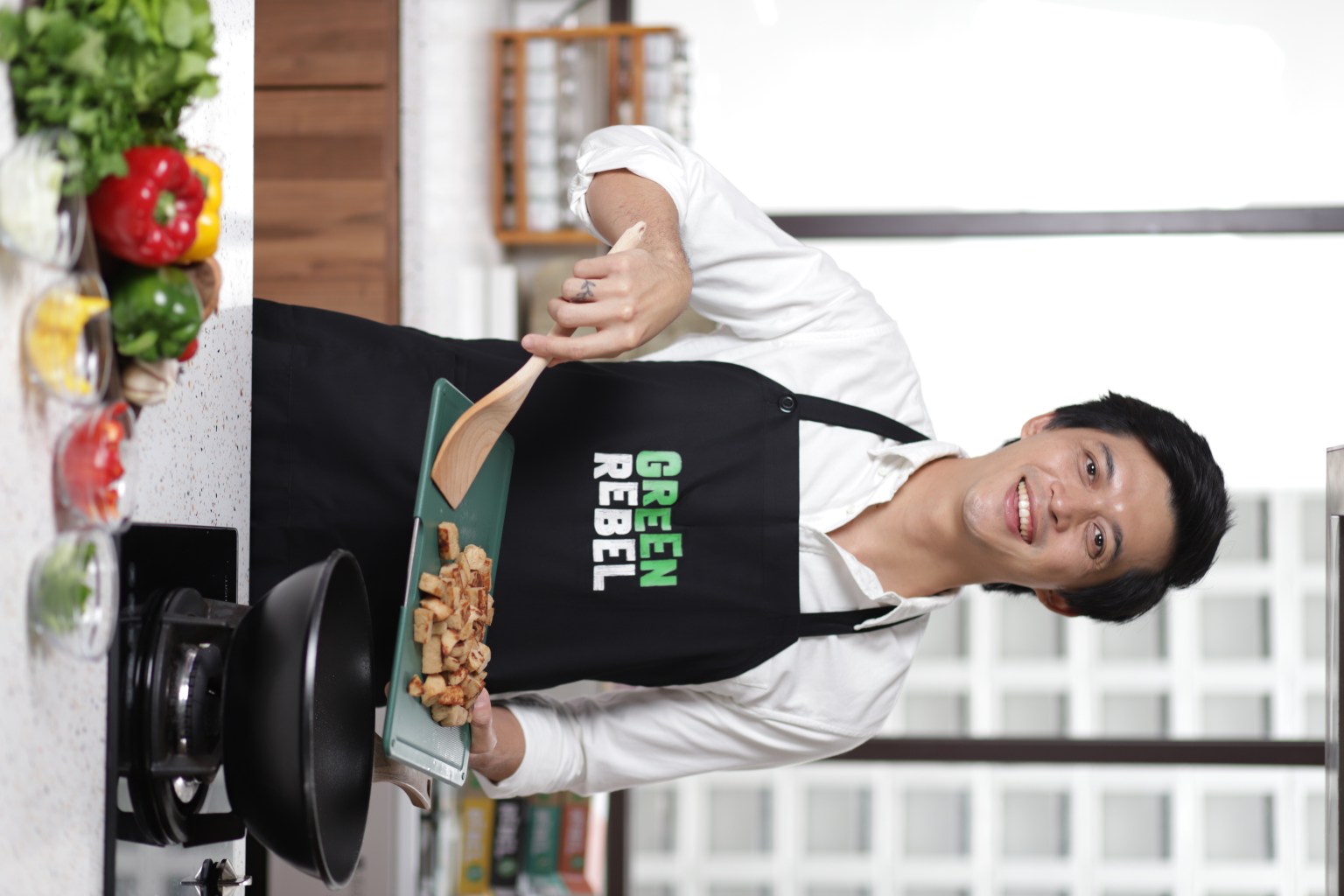 Listen to our full podcast episode with Mandias below.
The view from the kitchen
"In Asian cooking we use meat a bit differently… we use a lot of high moisture, low heat techniques," Mandias said. His dissatisfaction with the available plant-based options, such as burger patties and mince meat imitations, which may be "inconvenient and limiting" for chefs, was a key driver behind the Green Rebel brand.
 
Mandias described chefs as "pretty straightforward" types who would be "very honest" with him. He said they told him they wanted "a very functional product that is tasty and that they can use easily without changing… (their) behaviour". He said chefs aren't always concerned about whether or not a product is plant-based, but are more interested in finding "kitchen solutions".
 
And while he admitted that "a lot of education… still needs to be done" around plant-based meat alternatives, Mandias is optimistic about their future in food service.
Cracking the steakhouse market
After striking a deal with Abuba, Indonesia's largest steakhouse chain, there seems to be good cause for Mandias' optimism. He described the collaboration as a "big deal" for Green Rebel, revealing that it had been eyeing the steakhouse market when he bumped into an Abuba owner at a Burgreens location.
Green Rebel's "whole-cut Beefless Steak" launched in Abuba's 30-plus outlets soon after, with Mandias saying that the collaboration grew from a "sincerity" that Abuba wanted to offer a "healthier… and eco-friendlier alternative" for customers. He added that price parity with Abuba's traditional steak dishes was "moving the needle for a lot of people" who wanted to try plant-based options.
 
Mandias said while they want to be seen as a "high quality" product, Green Rebel didn't want to be perceived as a brand that was so "premium that people don't even want to touch (it)". The impact on environmental issues driving the business can "only be realised if people order (the product) and put it on their plate," he said.
 
Green Rebel has also collaborated with Ikea, which features Green Rebel products in the QSRs of its five Indonesian stores. Mandias said that Ikea's offering of Green Rebel plant-based meals at half the cost of meat options "really moved the needle" for a lot of people.
Pointing to the recent outbreak of foot and mouth disease in Indonesia's cattle industry, Mandias also said that biosecurity issues were one factor playing into the uptake of plant-based protein sources, and that one distributor had been "stockpiling" Green Rebel's "Beefless Steak" in the early stages of the outbreak.
Tech meets tradition
While emulsion processes are common in the plant-based space, Mandias described the company's "Rebel Max" emulsion and texturisation technology as key to making its products "fully functional and heat stable" and essential to their ability to withstand the rigours of Southeast Asian cooking styles.

Mandias said Green Rebel has found success translating this tech into products such as its "Beefless Rendang", based on the traditional Indonesian curry, in the Southeast Asian market. Eyeing a launch in Australia by year's end, Mandias noted that Australian consumers were typically "well-travelled" with "a lot of exposure to different cuisines" and the emphasis on Asian cuisine would remain, adding that Green Rebel is aiming to "appeal to… not only Asian (consumers) but also Asian food enthusiasts" who are interested in "experimentation".

Listen to the full conversation with Max Mandias below.
To stay up-to-date on the latest industry headlines, sign up to Future Alternative's enewsletter.