Vow has unveiled its latest project, a woolly mammoth meatball, using cells from the extinct creature to start a conversation about the impact potential of cultured meat.
The mammoth meatball was brought to life by 'Forged by Vow', which the cultured meat company refers to as an experimental food brand, together with marketing communications agency, Wunderman Thompson, and Naturalis Biodiversity Centre, a national museum of natural history and a biodiversity research centre in Leiden, the Netherlands.
The project was also aided by Professor Ernst Wolvetang at the Australian Institute for Bioengineering at the University of Queensland.
Unveiled on 28 March at the NEMO Science Museum in the Netherlands, the mammoth meatball required over 20 billion mammoth cells, and according to Vow, it's the world's first meat made from extinct animal protein.
Ultimately, the mammoth meatball was designed to stimulate conversation around how climate change has and will continue to impact our lives, and the role that cultured meat can play in redefining global food sytems.
In a blog post announcing the meatball's launch, Vow's co-founder, George Peppou, said "It's a bold and exciting experiment that challenges us to think outside the box and imagine a future where meat consumption can be so different from what we know today."
"The mammoth is a symbol of loss. But we wondered, could this prehistoric creature also become a beacon of hope?" Vow asks in a video promoting the meatball's release (see above).
James Ryall, Vow's chief scientific officer, reiterated that the meatball's creation is largely about driving interest in and awareness of cultured meat.
"The goal behind creating the mammoth meatball was really about starting that discussion around food and what that decision to eat meat really means for the world at large, by bringing an extinct protein back to life."
Sam Perkins, CEO of Cellular Agriculture Australia, said Vow's latest innovation is about pushing both the industry's and consumer's perceptions on what cellular agriculture is capable of delivering.
"Vow's mammoth meatball has started an important conversation about how cellular agriculture can create foods we've never seen before. Sustainably. I also love how it's stretched my own thinking about what flavours and textures I'll be able to experience in the future," Perkins told Future Alternative.
The meatball was created by identifying a mammalian protein, called myoglobin, and using a publicly available database to uncover the mammoth DNA sequence.
According to Ryall, "any gaps in the DNA sequence of this mammoth myoglobin gene [were filled in] by using the genome of the African elephant, the mammoth's closest living relative."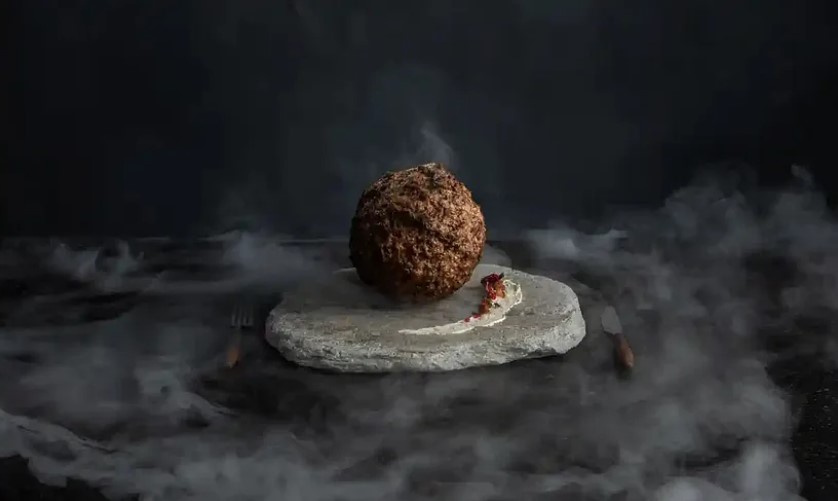 The mammoth myoglobin gene was then inserted into sheep cells using a very low current and high voltage charge. From there, the cells continued to grow and multiply as they would have in nature.
The roughly 400g meatball is not designed for human consumption.
"We know that change won't happen overnight, but Vow is excited to be part of this movement towards a more sustainable food future," Peppou said. "[We] believe that the mammoth meatball is just the beginning of a conversation about what meat could be, and [we're] eager to work together to create a brighter future for ourselves and the planet. So, let's start talking about it."
Just last month, Vow announced it had become the first Australian cultured meat company to lodge an application with the Australian regulator, FSANZ, seeking approval for its cultivated quail product. This followed news of the company's Series A raise, which closed in late 2022 and attracted an industry-record of $49.2 million.
Listen to our podcast episode with George Peppou below.
To stay up-to-date on the latest industry headlines, sign up to Future Alternative's enewsletter.