The CellAg Summit is Australia's first conference dedicated to the cellular agriculture industry, and will be held at Fishburners in Sydney's CBD on 15 June.
Hosted by Future Alternative, together with Cellular Agriculture Australia, the CellAg Summit will welcome cell cultivation and precision fermentation companies, as well as academics, researchers, investors and government representatives.
The conference will examine the key challenges that the industry faces as it moves from R&D to commercialisation, with a focus on topics including scaling and infrastructure, viability and cost competitiveness, consumer awareness, scientific and engineering obstacles and the state of the investment landscape.
The full program can be accessed here.
One of the program's highlights will be a debate between self-confessed 'frenemies' George Peppou (Vow) and Dr Phil Wood (Monash University) who will discuss cell ag's ability to scale to the point where it can produce affordable protein alternatives for the masses, and whether or not these products can have a real impact on food security in the decades to come.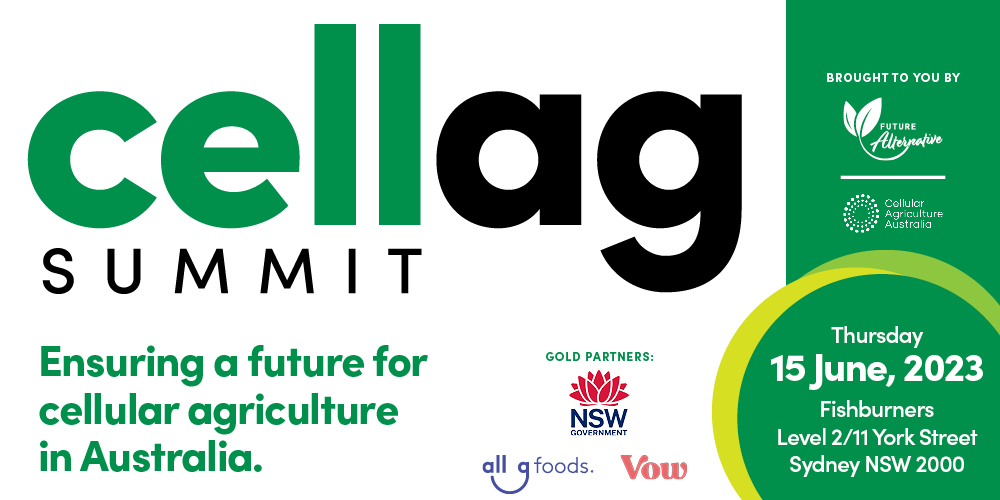 The CellAg Summit will also host a panel titled 'Keeping it Local', where business leaders will share their thoughts on what needs to be done to ensure Australian companies and innovations remain on-shore as they grow. Speakers will include David Bucca (Change Foods), Michele Stansfield (Cauldron Ferm) and Damian Frank (All G Foods).
Early Bird ticket pricing will end on 15 May, after which tickets will be available for $399pp + GST.
The event is supported by the NSW Government, All G Foods and Vow (Gold Sponsors), Sartorius (Silver), Eden Brew and Merck (Bronze).
For sponsorship enquiries, email Future Alternative's editor, Danielle Bowling, at dbowling@intermedia.com.au
To stay up-to-date on the latest industry headlines, sign up to Future Alternative's enewsletter.