When do cellular agriculture companies need to start formulating a go-to-market strategy? What data is available on how Australian consumers perceive these products, and what influences their behaviour at the checkout? We'll discuss all this and more at the inaugural CellAg Summit.
Taking place on 15 June at Fishburners in Sydney's CBD, the CellAg Summit is Australia's first conference dedicated to the cellular agriculture sector, with a particular focus on defining and discussing the key challenges the industry faces as it moves towards commercialisation.
Hosted by Future Alternative, together with Cellular Agriculture Australia, the one-day conference will feature a series of Q&As and panel discussions, with program highlights including:
CAN WE REALLY GO MAINSTREAM? – A debate between self-confessed 'frenemies', George Peppou (Vow) and Dr Paul Wood (Monash University), and moderated by the CSIRO's Michelle Colgrave, analysing whether or not cellular agriculture technologies can be scaled to the point where they genuinely make an impact on food security.
IS SCIENCE HOLDING US BACK? – A panel discussion looking at what "the science" isn't letting the industry do, and how research partnerships should be structured to overcome these gaps. Speakers include Andrew Laslett (Magic Valley), Anna El Tahchy (Nourish Ingredients), Ian Paulsen (Macquarie University) and Sonja Kukuljan (Noumi).
INVESTOR INSIGHTS – Insights into the current investment landscape and what companies need to consider when looking to start out and raise capital. Panellists include Sarah Nolet (Tenacious Ventures), Simon Newstead (Better Bite Ventures), Gabrielle Munzer (Main Sequence) and Anna Tao (CSIRO).
CHALLENGES IN SCALING : AN ENGINEERING PERSPECTIVE – Leading experts in chemical engineering and synthetic biology explore some of the technical challenges facing the industry as it moves towards large scale production. Speakers include John Kavanagh (USYD), Victoria Haritos (Monash Uni), Tony Goh (Sartorius) and Alvin Ng (Esco Aster).
The program can be viewed in full here.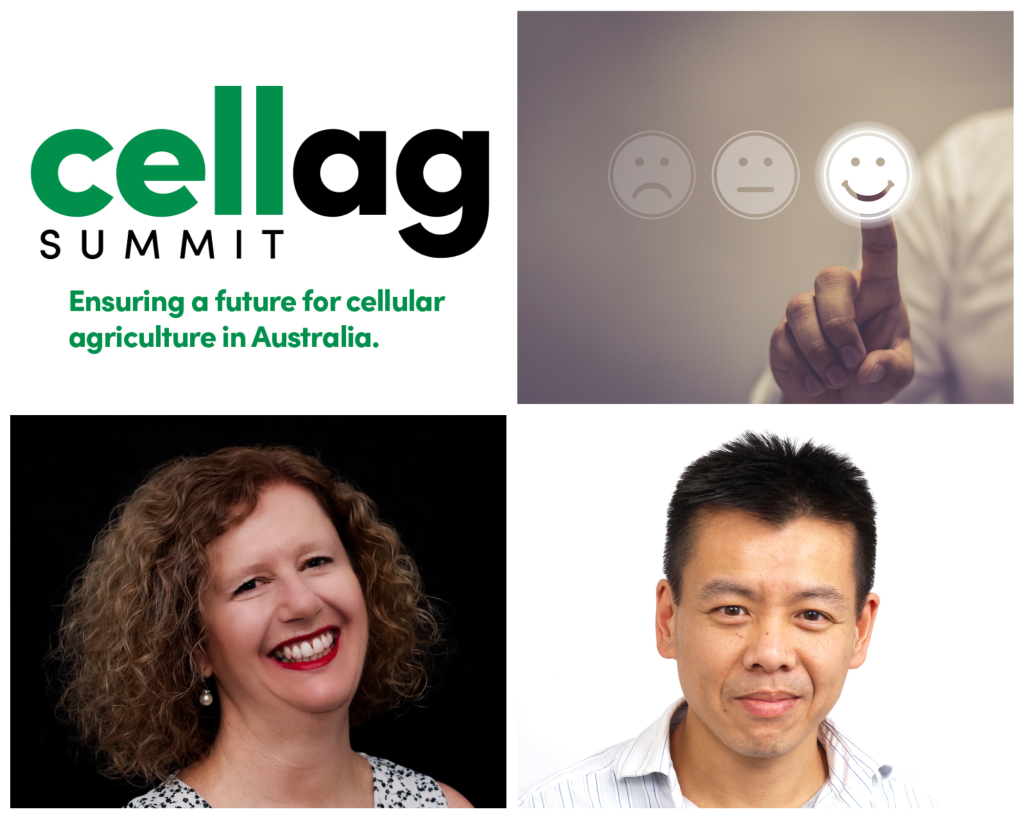 The day will also include a discussion on Consumer Acceptance of Novel Food Products, moderated by Sarah Separovich, Brands and Partnerships, at Vow. Panellists including Megan Stanton, Associate Director South APAC, Food and Drink and Purchase Intelligence Insights at Mintel, and Gie Lim, Associate Professor, CASS Food Research Centre at Deakin University, will provide an overview of the consumer data (or lack of) that the cell ag industry has access to, and what companies need to consider before devising their go-to-market strategies.
The session will also reference other novel food technologies, including GMOs, sharing lessons that may be learnt from their market entries. The panellists will also share their insights on how companies can tackle what is a key purchase inhibitor for novel foods: unfamiliarity.
"Cellular agriculture products could be available to Australian consumers as early as next year, so the time for discussing the most effective launch strategies is now," said Future Alternative's editor, Danielle Bowling.
"This panel is going to be incredibly insightful, drawing on the experiences of novel food technologies already in the market, while also shining a light on the industry's desperate need for broader and more detailed consumer research that's specific to the Australian market."
The CellAg Summit will take place at Fishburners in Sydney's CBD on Thursday, 15 June 2023.
This event is sponsored by the NSW Government, All G Foods, Vow (Gold Sponsors), Sartorius (Silver), Eden Brew and Merck (Bronze).
To stay up-to-date on the latest industry headlines, sign up to Future Alternative's enewsletter.