In order to meet the Paris Agreement's goal of limiting global warming to 1.5C, consumers need to shift to a more sustainable diet five times faster than they currently are.
Systems Change Lab's flagship report, State of Climate Action 2022, found that significantly more action across all industry sectors is needed this decade if the 1.5C increase is to remain within reach.
The report analysed recent progress made in accelerating climate action across sectors that collectively account for roughly 85 percent of global GHG emissions, including power, buildings, industry, transport, forests and land, and food and agriculture, and in scaling up carbon removal technologies and climate finance. It then quantified the global gap in climate action by comparing current efforts to those required by 2030 and 2050 to limit warming to 1.5C.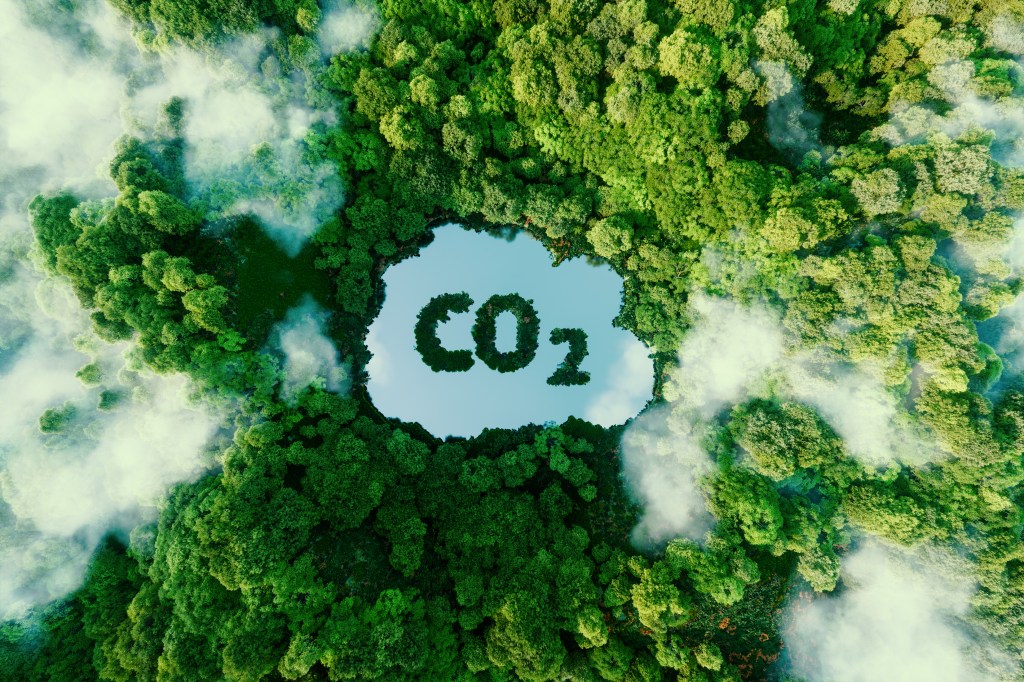 Of the 40 indicators assessed, none are on track to achieve their 2030 targets. Rather:
Six indicators are "off track," – that is, moving in the right direction at a promising but insufficient speed. These include ruminant meat productivity, reforestation and the share of zero-carbon sources in electricity generation.
21 indicators are "well off track," – heading in the right direction but well below the required pace. These include ruminant meat consumption, public financing for fossil fuels, green hydrogen production and crop yields.
Five indicators are headed in the wrong direction entirely. These include agricultural production GHG emissions, mangrove loss and the share of unabated fossil gas in electricity generation.
Eight have insufficient data to track progress. These include food waste, share of food production lost and the carbon intensity of building operations.
Despite this, there are some encouraging signs. The adoption of zero-carbon power sources, including renewables like solar and wind power, is on the rise across the world, with recent years witnessing record-breaking growth. From 2019 to 2021, for example, solar generation grew by 47 percent and wind by 31 percent. The transition to electric vehicles (EVs) is also surging, with EVs accounting for almost nine percent of passenger car sales in 2021 — a doubling from the year before. And the global share of battery electric and fuel cell electric vehicles in buses sales reached 44 percent in 2021, growing from two percent in 2013.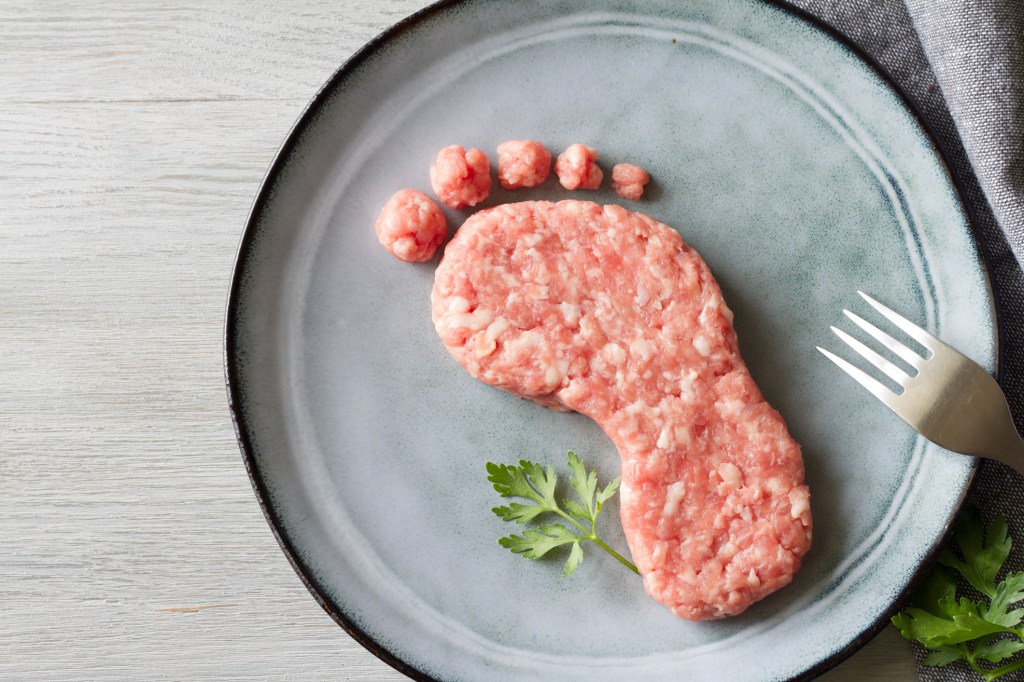 "Increasingly rapid uptake of zero-carbon technologies like renewables and electric vehicles show us that exponential change is possible when decision-makers deploy the many tools at their disposal to accelerate the transition to a net-zero future," said Nigel Topping, High-Level Climate Action Champion of COP26 and the UK. "And with the right support, other nascent technologies, from green hydrogen to zero-emission fuel for shipping, could soon take off."
For the 21 indicators categorised as "well off track," recent rates of historical change need to accelerate at least two times faster to achieve their 2030 targets. For example, the report finds that we must:
Phase out unabated coal in electricity generation six times faster — equivalent to retiring roughly 925 average-sized, coal-fired power plants
Expand public transportation systems like metros, light-rail trains, and bus rapid transit networks six times faster.
Lower the amount of carbon dioxide emitted per metric ton of cement produced over 10 times faster.
Reduce the annual rate of deforestation 2.5 times faster — equivalent to avoiding deforestation across an area roughly the size of all arable land in Switzerland each year.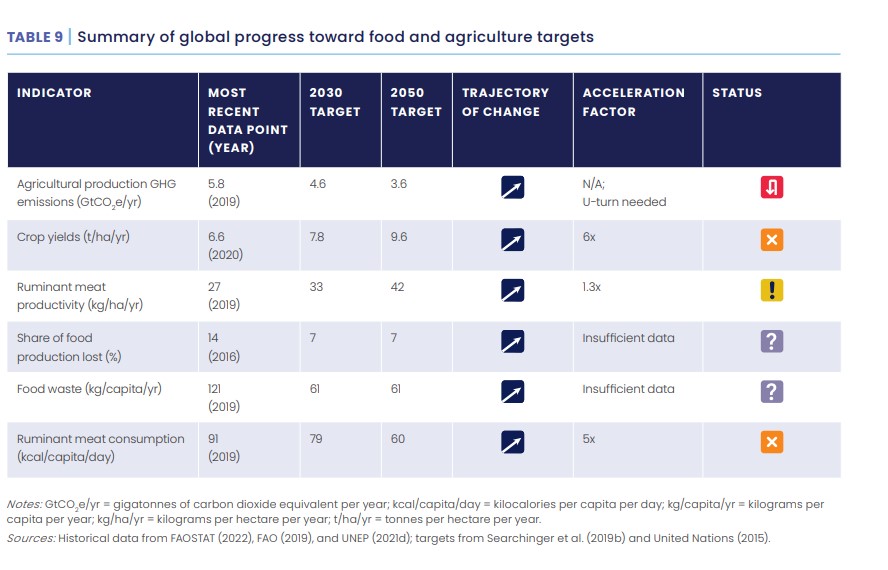 Consumers across Europe the Americas and Oeania also need to shift to healthier, more sustainable diets five times faster, by lowering per capita consumption of ruminant meat to the equivalent of roughly two burgers per week.
The existing target for ruminant meat consumption is for these high-consuming regions to decrease their daily per capita consumption to 79 kilocalories by 2030, and 60 kilocalories by 2050.
Per capita consumption of beef, lamb and goat meat dropped by 1.5 percent between 2015 and 2019, reaching 91 kilocalories, but as mentioned, this rate of decline needs to be five times faster to hit the 2030 kilocalorie target.
The report also said that while some regions including Africa and Asia were already well below the 60 kilocalorie threshold in 2019, certain countries, like China, are seeing increases in meat consumption.
"Certain countries are experiencing significant increases and will likely reach the 60 kilocalorie threshold between now and 2050. In such cases, it would be advisable to try to peak per capita ruminant meat consumption early so as not to breach the target, and instead aim to shift demand to lower-GHG protein sources," it reads.
A food focus
In relation to food and agriculture specifically, the report said that recent research shows achieving global food security while limiting global warming to 1.5C can't be done without significant changes to food production and consumption.
It found that agricultural production remains a significant and growing contributor to emissions, with the sector's GHG emissions increasing by an annual average of 0.6 percent since 2000.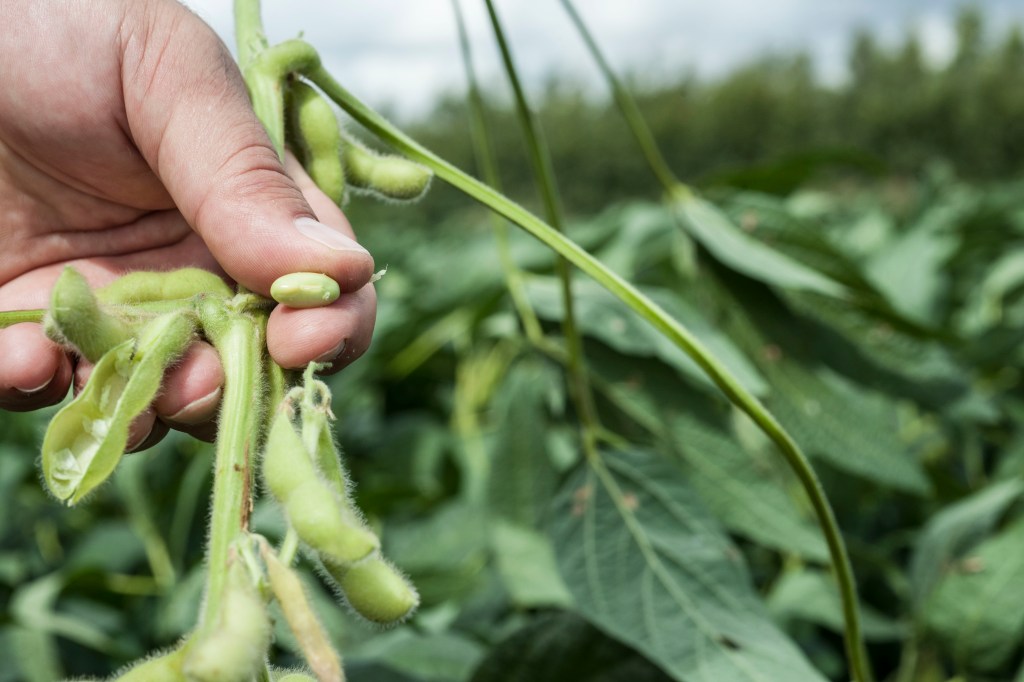 "Critical shifts are needed in the agriculture sector to achieve global food security and limit warming to 1.5°C," the report reads. "These include shifting to low-carbon agricultural practices, sustainably increasing crop yields and ruminant meat productivity, dramatically lowering food loss and waste, and shifting to more sustainable diets, namely by reducing ruminant meat intake in high-consuming regions. These shifts will be necessary in order to ease competition for land and achieve the targets to protect and restore carbon-rich ecosystems."
The report summarises the action that needs to be taken in four strategies:
Produce more food and feed on existing agricultural lands while reducing emissions.
Protect remaining natural and seminatural ecosystems from conversion and degradation
Reduce projected growth in demand for land-intensive goods, particularly by high income consumers.
Restore degraded ecosystems and marginal agricultural land back to nature.
You can read the report in full here.
The report is a joint effort of Bezos Earth Fund, Climate Action Tracker (Climate Analytics and NewClimate Institute), ClimateWorks Foundation, the United Nations High-Level Climate Change Champions, and World Resources Institute.
To stay up-to-date on the latest industry headlines, sign up to Future Alternative's enewsletter.