Future Alternative, together with Cellular Agriculture Australia, will host Australia's first and only conference dedicated to precision fermentation and cell cultivation, taking place in Sydney on 15 June, 2023.
Early Bird tickets are now available for The CellAg Summit, a single-day event discussing the challenges that cellular agriculture faces on the path to commercialisation, and how to best navigate them.
Supported by Gold Sponsors, the NSW Government and All G Foods, as well as Bronze Sponsor, Merck ANZ, the event will see start-ups and established manufacturers in the room with researchers, academics, government representatives, traditional protein suppliers and investors.
The CellAg Summit will examine and discuss the sector's key obstacles to commercialisation, many of which were identified in Cellular Agriculture Australia's industry-first whitepaper last year. These include:
Scaling and access to infrastructure
Commercial viability and cost competitiveness
Navigating regulatory processes both here and abroad, as well as
Lessons and advice from complementary industries/businesses
Consumer awareness and perception, and
How the investment landscape has changed in 2023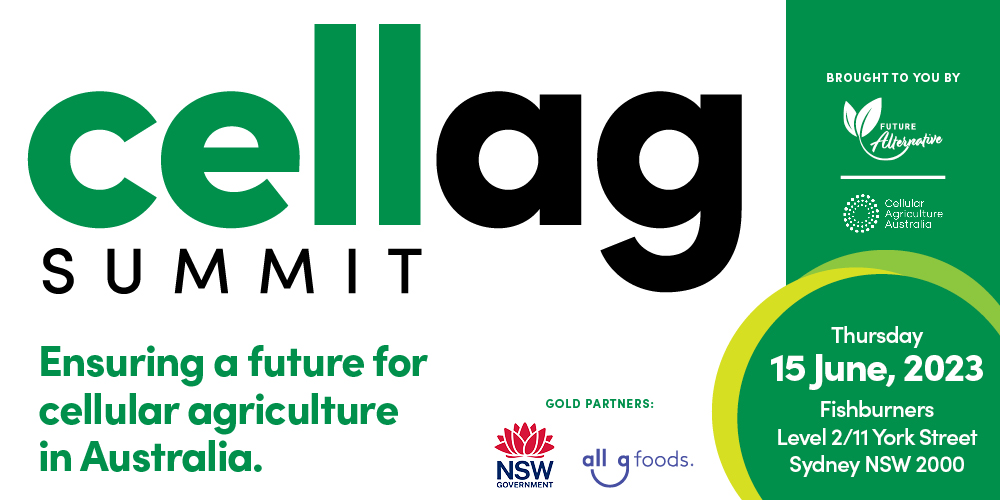 "It's great to see Future Alternative leading the charge with a dedicated, industry-led, and outcomes-oriented conference for the cellular agriculture sector in Australia," said Sam Perkins, CEO of Cellular Agriculture Australia. "I'm excited to see The CellAg Summit lean in to robust and rich conversations linked to the critical challenges facing the industry as it grows.
"If you are engaged with cellular agriculture in Australia, this one is not to be missed."
The CellAg Summit will take place at the Fishburners event space, on Level 3 of the NSW Government's Start-Up Hub in Sydney's CBD.
This event is sponsored by the NSW Government, All G Foods and Merck ANZ. For sponsorship enquiries and to request a copy of our event prospectus, please contact Future Alternative's editor at dbowling@intermedia.com.au.
For Early Bird ticket sales, click here.
To stay up-to-date on the latest industry headlines, sign up to Future Alternative's enewsletter.