Less than 12 months after launching its flagship beef product in Australia, Impossible Foods has added plant-based pork to the menu, partnering with leading venues including Butter, Red Lantern and Smith & Daughters.
One of the world's most recognised plant-based meat brands, Impossible Foods is based in California and its flagship product, the Impossible Burger, was named the top plant-based burger by the New York Times in 2019.
The company first entered the Australian market in November 2021, partnering with establishments including Butter and Grill'd. Impossible's Beef then hit retailers' shelves in March 2022, and now a plant-based pork product has been added to the mix.
"Australia is one of the heaviest meat-consuming markets per capita in the world and pork plays a central role in some of the nations' favourite cuisines, so launching Impossible Pork there felt like the natural next step for our expansion," said Jordan Sadowsky, Director of International at Impossible Foods. "We're working with some of the most exciting chefs in Australia to showcase the culinary versatility of this product, and we think people are really going to love it."
Mark Jensen, co-owner of Sydney's Red Lantern restaurant, said that while animal-derived pork will remain on the menu, Impossible's version is a good substitute for the growing number of diner's enquiring about plant-based dishes.
"Given the growing interest in alternative protein sources and pork being so prevalent in Vietnamese cuisine, I was curious to see how Impossible Pork would taste when applied to our traditional recipes," Jensen told Future Alternative.
"To my surprise it tastes bloody good! Pork – the real thing – is still my go-to but Impossible Pork offers a good plant-based alternative. I've found I can simply use Impossible without excessively adjusting the recipe and it delivers both on taste and texture."
Impossible Pork is available at the following locations:
NSW
Red Lantern, Darlinghust – serving Lemongrass Impossible Pork skewers served on a vermicelli, herb and pickled vegetable salad
Single O, Surry Hills – serving Impossible Pork Breakfast terrine with haloumi, saltbush crusted egg, smoked tomato achiote coulis and sea lettuce salsa verde
Tacos Muchachos, Redfern – serving Vegan Tacos Al Pastor Chorizo with Impossible Pork, guacamole salsa, red salsa, onion, cilantro and pineapple
Butter, Chatswood, Surry Hills, Parramatta – serving Burnt Endz Impossible Pork Hot Ballz Ramen
VIC
Smith & Daughters, Collingwood – serving Classic Smith & Daughters Impossible Pork Sausage Roll and Braised Iranian Impossible Pork & buckwheat meatballs with pomegranate and farinata
Bread Club, North Melbourne – serving Impossible Pork Sausage Roll and Lasagne pie
QLD
SouthSide, South Brisbane – serving Spicy Impossible Pork Mapo Tofu, Impossible Pork Xiao Long Bao. Available from Friday 19 August
Donna Chang, Brisbane City – serving Impossible Pork Mapo Tofu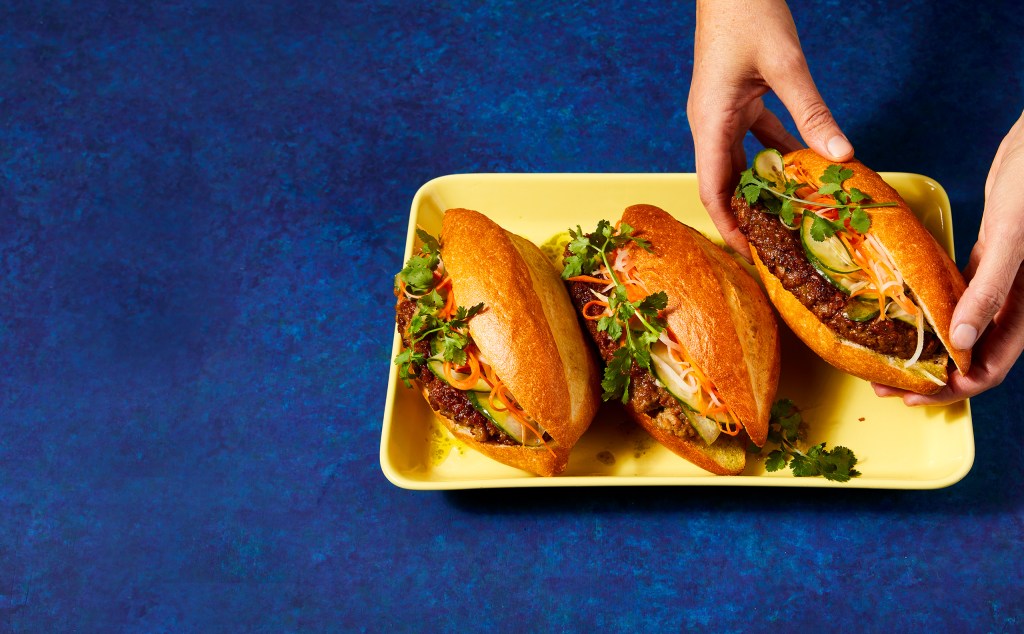 According to Impossible Foods, Impossible Pork contains no animal hormones, antibiotics or added nitrates, and is certified gluten-free. Each 113g serving delivers 17.7g protein.
Impossible Pork is available to order via Australian importer, Beak & Johnston (B&J).
To stay up-to-date on the latest industry headlines, sign up to Future Alternative's enewsletter.