Precision fermentation company Eden Brew recently announced a $25 million raise to scale their protein fermentation processes and complete patent applications.
We caught up with Eden Brew Co-founder and CEO Jim Fader at last week's AltProteins 23 conference, where he discussed plans for the fundraise with us along with his views on the maturity of the precision fermentation industry.

Exciting news about the fundraise. What's the reaction been like here at AltProteins 23?
There's a lot of energy and a lot of vibe. I think the industry is doing great things. It's been a really good day and it's been fun to be part of it. And we got a couple of mentions because we released our little announcement yesterday. So it's nice to kind of ride on the coattails of a great event.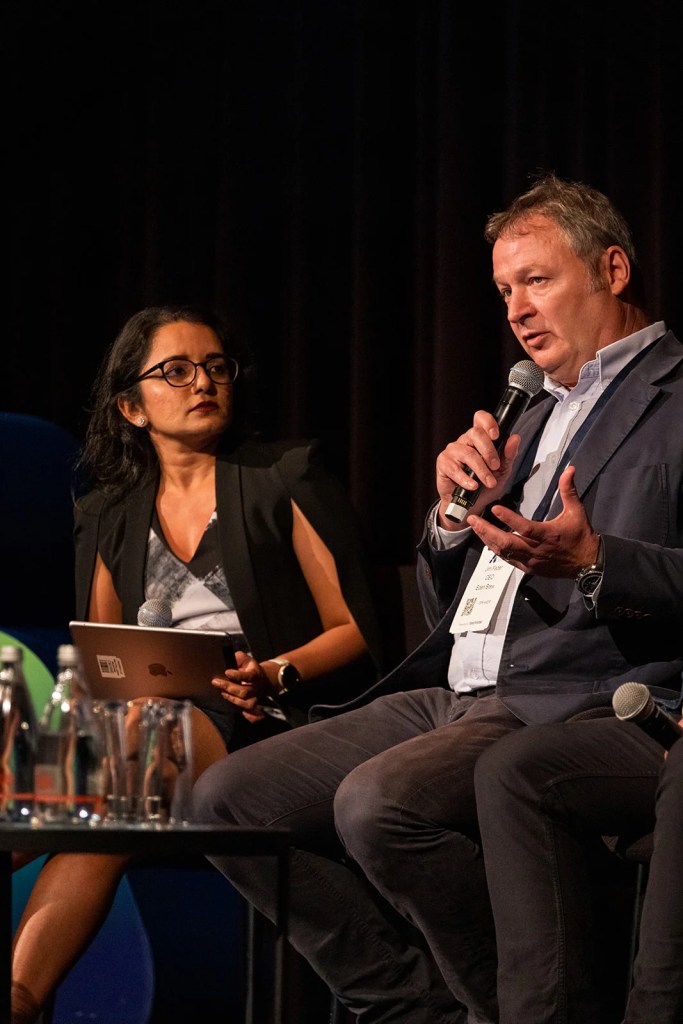 What does the fundraise mean for Eden Brew, and what will it allow you to do  from here? 

It's invaluable. We've got work to do to scale our protein fermentation processes now to 150,000 liters. So that takes us from mucking around with prototypes all the way through to commercial scale. It funds our FSANZ application process – our patent application. So we've got a whole heap of complexity that's about to explode in the business that's been sitting there waiting for us to complete this raise. 
A lot of people are hinting at the fact that maybe some of this money might be used to acquire other businesses. Is that a far-fetched hypothesis? 

I think in this industry at this time, being so young, you're going to get a lot of innovation. There's a lot of good ideas and then as the market matures a bit, people are going to merge, acquire – some are going to win, some are going to fail. So I think there will be consolidation. That's normal. If you're asking me am I about to acquire businesses, well, I've only raised 25[million], so no. [Laughs]  
It feels like you're a public listed company trying to raise cash.  It's not always about that, is it? 

No, definitely not. We co-founded with Norco. We're really proud about that. Norco brings a lot of knowhow around dairy science and category development, brand development, and go to market strategy. And there's an example of leaning on a business for their knowhow and not for their direct financial investment.
And how do you feel about precision fermentation now? Is it on the trajectory that you were hoping for, or are there any speed humps that you might be seeing along the way?

It's a good question. I think I'd describe[the sector] as 'adolescent'. And I would say that in some regards it's exceeding expectations. A year and a half ago I'd be lying awake at night worrying about where my commercial production capacity was going to come from. And there were millions going into businesses like Eden Brew that had really great molecules, but who was going to make them at the scale that provided the commercial volumes and the cost structures that made my business viable?

So there wasn't a lot of investment going into that massive capital intensive production, but a lot of investment going into R&D businesses like mine. And so I was lying awake at night worrying about how we're going to solve for our supply chain. We've done that and I think there's a real explosion of answers and solutions at different stages of the precision fermentation supply chain.

Now, lots of startups, lots of businesses that believe they can be part of that answer that we're meeting, we're understanding that they're part of our answer. It's a little bit like a jigsaw puzzle. I now see awesome collaborations and complexity coming into our commercialization journey that's exceeding my expectations.
One of the criticisms of this category is that it could be better at storytelling and maybe that would enhance its attraction to the investment community. Do you believe there's a sort of a marketing challenge for alt proteins, whether it's plant-based or mammoth meatballs….

That was great marketing. [Laughs]

Because I know everyone's quite scientific and as you say, molecular, and at some point we've got to switch that. Is that part of the growing up journey or is it too early for an 'adolescent' to be thinking about that?
No, I think it's definitely something that needs to be worked on a lot more. And I'm not the scientist in the room, so I've founded this business in a collaboration with CSIRO based on their research.

But my background is product development and marketing. So when I listen to everyone today talking about price parity, talking about the consumer experience and building categories, that's my language and it's refreshing because I am spending a little bit too much time talking to scientists about where our R&D program is at.

So I think that the general alt protein sector can do more around really nailing that customer experience. And I think that the sense of purpose behind the product is not going to be enough to sell the product. You've got to get customers to buy your product because they love it and for no other reason than that. The fact that there's a sense of purpose behind it is a bonus.

I also agree that they're not a customer unless they come back for a second time.

One hundred percent. And the problem is, if you don't get them back, it's ten times harder. So it's an absolute privilege when you get someone to trial and you must convert them at that point.

There's a curious consumer before a conscious consumer.

Yes, perhaps, but I think we all need to be food-obsessed. We need to be foodies.

Speaking of obsession, everyone seems to be obsessed about FSANZ. Your thoughts?

I think my experience so far, which has been through specialists and consultants, is that they're very learned in this space, as you would expect, and the process is very robust and we're very confident in our ability to meet the demands of the process.

When is that likely to be? Do you have a 2024 aim, a 2025 aim, or as long as it takes?
We think it's going to be twelve months from when we put the dossier in and we'd like to get the dossier in the first quarter of next year.
To stay up-to-date on the latest industry headlines, sign up to Future Alternative's enewsletter.