The CSIRO-backed deep tech investment firm, Main Sequence, has announced the first close of its third fund, raising $450 million and surpassing $1 billion in total funds under management.
Supporters include large institutional funds, wealth groups and top tier climate investors such as Hostplus, Morgan Stanley Wealth Management, Temasek, NGS Super and Australian Ethical Investment.
The fund also includes the first half of the $150 million CSIRO investment announced as part of the federal government's Australia's Economic Accelerator program.
Founded in 2017, Main Sequence aims to address the 'valley of death' between research and commercialisation, focusing on start-ups that solve challenges in health, food, space, transport, security and decarbonisation. It's invested in 53 companies to-date, a number of which are in the alternative protein space. These include Cauldron Ferm, v2food, Me& Food Tech, Nourish and Eden Brew.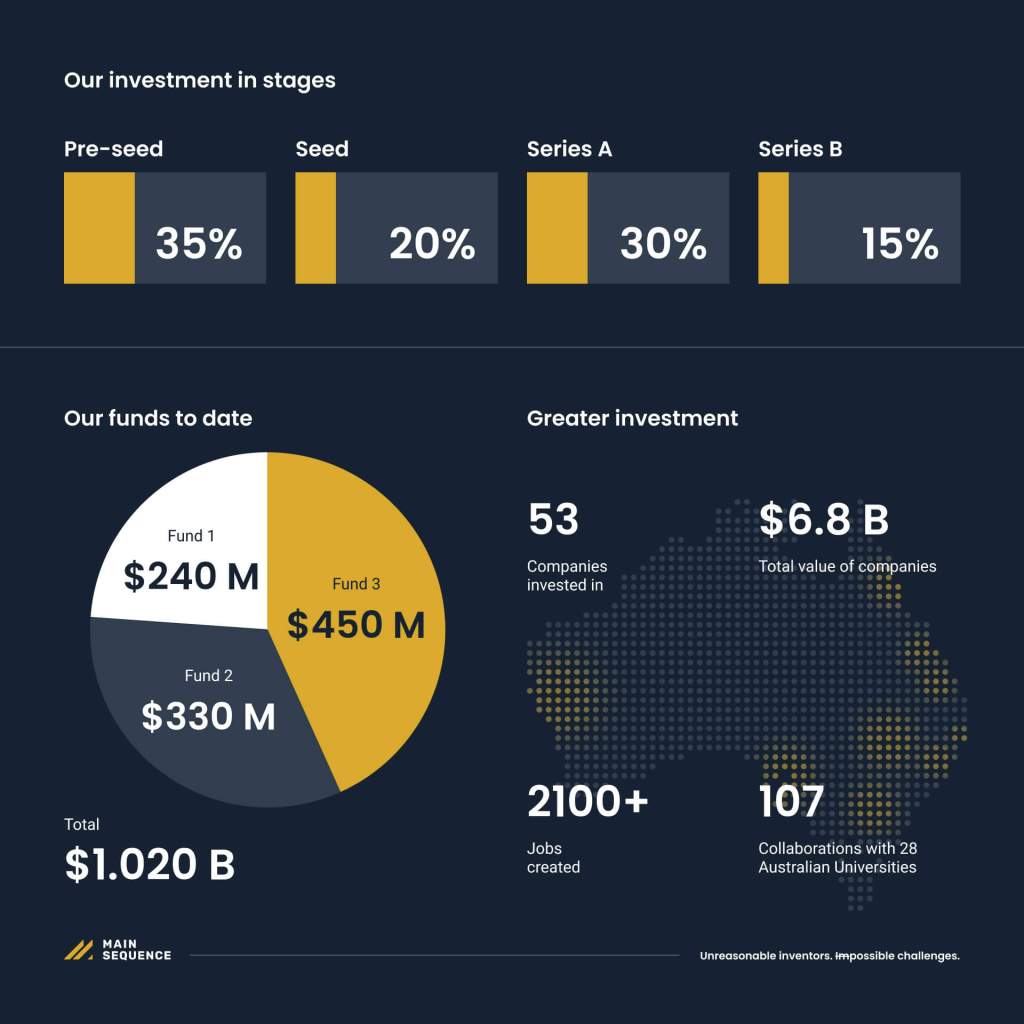 According to Main Sequence, its investments have created over 2,100 new jobs, and the market value of the companies has grown to over $6.8 billion.
As well as seeking out promising new companies, Main Sequence also finds novel research and builds new entities from scratch, through its 'Venture Science' model of investment.
Mike Zimmerman, partner at Main Sequence, said "Our focus remains on big, global challenges that need scientific backing, patient capital and long-term vision to solve. The community we have created around this mission cares deeply about finding and scaling solutions to planetary problems like decarbonisation, feeding a growing population and enabling the next intelligence leap. Thanks to their support, we have the flexibility and fortitude to back and build breakthrough companies grounded in research, and help them actualise their impact for decades to come."
Main Sequence's original fund attracted $240 million in 2018, and its second, in 2021, totalled $330 million.
Last month, Phil Morle, partner at Main Sequence, attended the inaugural CellAg Summit, Australia's first conference for the cellular agriculture sector, and contributed to the Investment Insights panel. Morle said start-ups are currently struggling to raise capital in what are testing economic conditions, arguing that rather than making new investments, VC funds are "doubling down" on their existing portfolios. Read more on this here.
To stay up-to-date on the latest industry headlines, sign up to Future Alternative's enewsletter.